Famous last words... quoting from Madness Round Four, after last weekend:
At this point, with Louisville out, I'm going to pick Connecticut to go all the way. I have it as UConn over Michigan State, Villanova over North Carolina, and the Huskies to win it all. Amazingly my bracket is still in pretty good shape (except for UCLA winning, that is :) Anyway next weekend we'll see how it all ends up; stay tuned...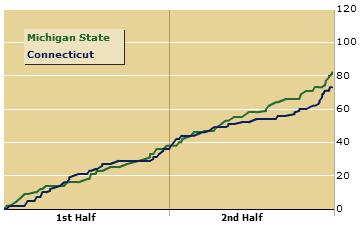 An awesomely bad call; Michigan State won a hard-fought battle over Connecticut, and North Carolina rolled Villanova. And now my bracket is no longer in pretty good shape; it was great while it lasted, (and I did okay considering I had picked UCLA to go all the way,) but things have finally fallen back to Earth.
The Michigan State / UConn game was weird; all through the first half Michigan State outplayed UConn and they took a small lead into halftime, but you had the sense that UConn was the stronger team and could power ahead at any moment. But the second half was different; the teams played even until about the ten minute mark, at which point Michigan State slowly but surely put the game away. It is hard to call the Fridge Score* but I am tempted to make it 8:30 or so; it wasn't as close as it felt. And yet and yet; UConn did make that late run with about two minutes to go. So we'll say FS=01:30. I really think if UConn had started using the press they deployed at the end of the game earlier they could have pulled this one out.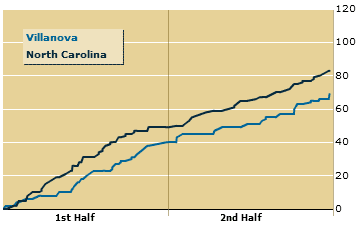 The North Carolina / Villanova game was really never in doubt (after tipoff, that is :). North Carolina immediately took a 10+ lead and pretty much held it all the way, looking like clearly the better team. In fact in the second half there were a couple of moments when Villanova pulled closer, but it was only because NC seemed to let up, with the game securely in hand. I make it FS=20:00. I didn't see any weakness at all in North Carolina, they have a complete team and they play as one. At this point I'd have to pick them over Michigan State.
*FS = Fridge Score: the time at which the game is no longer in doubt. (Hat tip to Chickie :)
So we'll see what Monday brings... stay tuned!
(PS blogged from the friendly skies over Nevada, in route to Chicago via Salt Lake City...)