| | |
| --- | --- |
| The Joy of Craftsmanship, II | |
If you've been reading for a while - well, a long while :) - you might remember The Joy of Craftsmanship, a post about my local bike shop and my favorite mechanic. Well today he did it again, and so today I am posting about him again :)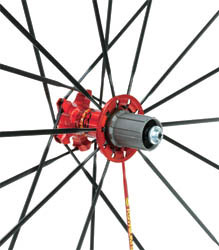 Ever since my bike has been "back" - ever since my weird disaster recovery - it's made a funny sound, kind of a tinkling sound, like there was a playing card clothespinned to twang against my spokes. (Remember that? Nah, I don't either. But I've read about it.) So I checked and there were no playing cards, and no loose spokes, and nothing loose at all. It was a mystery. I knew it wasn't the frame itself; frames creak sometimes, but they don't twang.
So today I took my bike in to have it checked out. Turns out it was simple, my mechanic knew immediately. Squirt a little oil on the spokes, right where they connect to the back axle, and poof, the noise was gone... Delightful.
He checked out all my cables and tweaked the derailleur just a little, and so now I am ready for my double tomorrow. Yay!