Tonight Meg and I attended a special fundraiser for the Westlake Sailing Foundation; a private screening of the movie Morning Light, hosted by Roy Disney. The movie tells the story of a pseudo-reality-show setup: Roy Disney, an avid ocean racer, holds a sailoff to select fifteen young sailors to form a team to compete in the 2007 TransPac race from Long Beach to Honolulu. After six months of training, the fifteen must decide among themselves on the final eleven who will compete in the race, sailing the TP52 Morning Light. The first half of the movie is all about the training and the selection, and the second half is footage from the race itself, in which Morning Light ended up [redacted].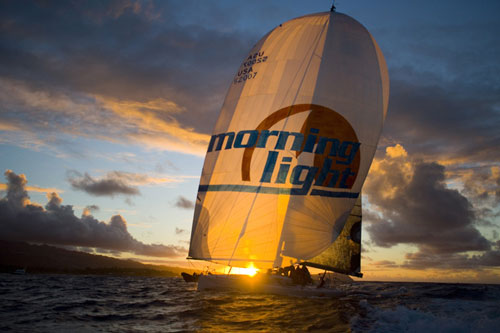 We really enjoyed the movie. It somehow really captures the essence of long-distance ocean racing, the preparation, the incredible stretches of time, the waiting and the panic and the drudgery and the excitement. Headlessly after eight days of racing Morning Light find themselves on the same patch of water as their arch-rivals, another TP52 called Samba Pa Ti manned by a professional racing crew. For two days, they race neck-and-neck, day and night.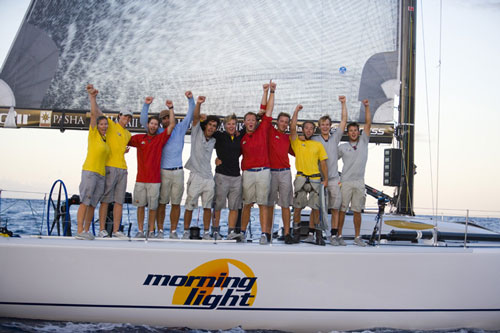 The movie also seems to capture the tension and possibility of being young (the crew are all in their early 20s) and of proving yourself to the world and yourself. I don't know if the movie is going to be released theatrically, but it will definitely be on DVD and iTunes; highly recommended.
The fund raiser was really well done, too; there was a nice reception beforehand, some great raffle prizes were given away, and of course having Roy Disney there to introduce the movie and answer questions about it afterward was special.
PS Meg and I arrived to the theater late and ended up in the second row. It has been a long time since I've watched a movie that close. It was pretty cool, at times the boats fairly flew in the air in front of us, and you could feel the salt spray :)