| | |
| --- | --- |
| endlessly buying shoes - online! | |
I'm a bigtime online shopper, have been for years; just about anything I can buy online I buy online. You can buy nearly anything online, but some things are easier than others. The acid test for shopping online would have to be shoes. You have to see shoes in person to know what they really look like, and you have to try them on to feel how they fit. And you have to walk around in them in front of a mirror to know whether you really want them. So you really can't buy shoes online, right? Right.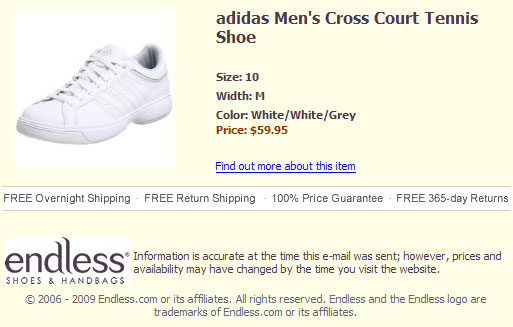 Wrong.
I recently received a pseudo-spam email from Amazon announcing a sale wherein they are offering 25% off new athletic shoes. Amazon sells shoes? Who knew? More out of curiosity than anything else I clicked through, and discovered a whole online shopping experience for shoes on Amazon. The user interface for this is really good.
It turns out Amazon front-ends a store called endless.com which is the actual merchant from which you buy. And the endless.com people have really thought about this, and have solved [almost] all the problems. First, you can shop along a bunch of dimensions - brand, style, color, size, etc. They have a huge selection. Second, you can see the shoes really well; for each shoe / style / color they have about ten different high-resolution photos, and an interface which allows you to pan through the photos just by hovering your mouse over a low-res photo. The prices are great (AFAIK), and they offer free overnight shipping, and free return shipping. In other words you can look, buy, and try with little risk.
The whole thing was compelling enough that I bought a pair of tennis shoes. Pretty cool. I can see myself endlessly buying shoes online :)