did knot win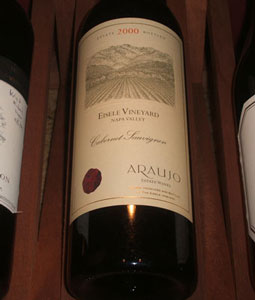 Oh, of course, you want to know how the great Cabernet tasting went yesterday night? Well, I decided to bring the 2000 Araujo Eisele, reasoning that it was great, a bit unusual, and wouldn't require as much decanting time as the '97s... sadly, it didn't win, in fact, out of eight blinded Cabernets it finished 4th (I didn't pick it, either).
So what happened? All of the other entries were current releases, and there was no decanting done. I think that was the problem; an hour or two of breathing and the Araujo would have come into its own. I sampled it after the bottles were revealed and although it was getting better it still wasn't spun all the way up to speed. Also the Araujo is big and full and needs a steak to be appreciated properly, for just sitting around and drinking it is probably too strong. Lesson learned; for a tasting like this a mellower and more accessible wine would have been a better choice.
Well so be it, we got to welcome in the new year by drinking eight nice cabs, while enjoying the company of a bunch of nice cab drinkers. Knot too shabby.