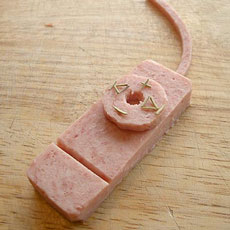 An update on my great second-computer-as-a-spam-filter experiment... it is working okay. Not great, but okay. I still haven't decided whether it is actually better. The part that's really working is that when my laptop is not running, my phone doesn't get a ton of spam anymore, and gets all my personal email as well as my work email. So the original goal of the experiment has been met. But there are side effects which are annoying...
The most serious problem is that now that a second computer is my spam filter, I have to train and edit spam on that computer instead of my laptop. The second is that the spam filter on the second computer isn't as thoroughly trained, so I have more false negatives and suspects. And the third is that client-side rules on my laptop about distributing email no longer work - I think because all the email is marked "read" by the spam filter computer.
Plan B would be to run Outlook on the second computer only when I'm traveling, and use my laptop as the spam filter most of the time. That might be the right answer, but the effort of swapping might be more than its worth. If it were only just a matter of running Outlook and not running it, that would be okay, but if I have to do anything more than that...
Um, can I just say how annoying this is? I can? Okay, this is annoying! I'm going to all this trouble just to keep the riff raff off my lawn. Blech. Stay tuned for more...