A nice quiet Saturday, featuring pumpkin shopping and carving, a little coding, a little riding (Rockstore for the fourth straight day, 1:47:50 today), and [of course] a little blogging. The World Series was rain-delayed, so I'm watching it now...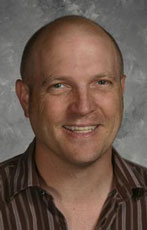 This just sucks: School mourns for teacher killed in accident. "Westlake High School is mourning the loss of math teacher Michael Maki, who died Wednesday from injuries suffered in a traffic accident two weeks ago. Maki, 42, of Thousand Oaks, was bicycling to work on Hillcrest Drive in Thousand Oaks at 7:30 a.m. Oct. 10 when a car hit him from behind." Man, I've ridden that same road a million times. You wish it would never happen, but it happens far too often; cars are a huge hazard to cyclists. I try not to think about it, but it is always in the back of my mind...
I still don't get Twitter, but it sure is real; now the U.S. Army warns of Twitter dangers. "A draft US Army intelligence report has identified the popular micro-blogging service Twitter, Global Positioning System maps and voice-changing software as potential terrorist tools." Huh.
Eric Raymond has a Android phone, and is trying to get ssh to run so he can change the hostname to "moogly". So be it. The fact that the G1 phone runs Linux and is potentially hackable will only appeal to a small group (like Eric!), but it is an influential group. This same group is not necessarily interested in programming the iPhone, even a jailbroken one. It will be interesting to see how this plays out...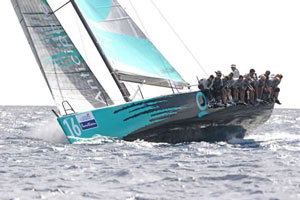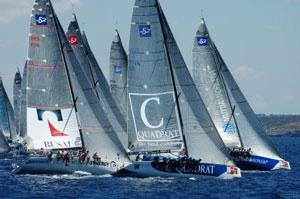 Congratulations to Quantum Racing, which won the TP52 world championships. If you don't know, the TP52 class is the world's most competitive big boat racing, with large fleets of well-heeled competitors, state-of-the-art hull and sail design, and the world's best professional crews. Amazing to watch, too. At right we have the start of the first race, and Quantum Racing showing their form to weather.