Suddenly the Olympics seem like they were so long ago! Weird. Did you know the U.S.Open is being played right now? Yeah, me neither. And now that I do know, I don't care.
Katrina victims' illiteracy hampers recovery. Here's the subhead: "More than 40 percent of New Orleans adults lack the literacy skills to comprehend basic government forms. And Hurricane Katrina recovery programs have done little to ease the burden." Get that? It isn't their fault, because the government's programs haven't fixed the problem. Wow. Reading the article we get more victimology: "I didn't get a lot of school when I was a child. I guess they didn't have enough to go around." See, there's always a they, and it is always their fault. Ridiculous.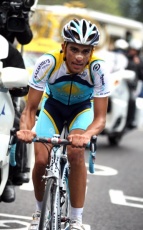 Are you ready for the Vuelta de Espana (Tour of Spain)? It starts this weekend, of course... Look for Team Astana to dominate, led by Alberto Contador (at right). With Levi Leipheimer and Andreas Kloden, and with Denis Menchov and Cadel Evans not participating, they could sweep the podium. This is the first year of the last three where I didn't have plans to visit Spain in September; I'm going to miss it!

More cycling: How Google Earth helped Kristin Armstrong win a gold medal.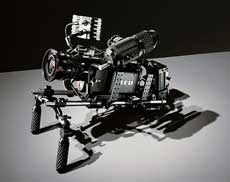 Interesting story in Wired about the new Red digital movie camera. Developed by Jim Jannard, previously the founder of Oakley sunglasses, this camera shoots movies at 30fps with 4K x 2K resolution, good enough to be compared to analog film. The cameras cost about $20K, but that's monthly rental on a movie film camera. Plus the digital cameras don't need expensive film, and of course the resulting movies can be edited digitally without any transcoding. The future is here!

More future: the Electric Cadillac? Why not? Someday all cars are going to be electric, the only question is when that day will come.

Today I discovered KillerStartups, which showcases 15+ new startups every day. Today's startups include short movie reviews, a Canadian camping network, a way to make your email address anonymous, and help managing playdates for your kids. Incredible, each of these has a bunch of people working to make them successful. Just when you thought you've seen everything, you realize "everything" is so much more than you thought.