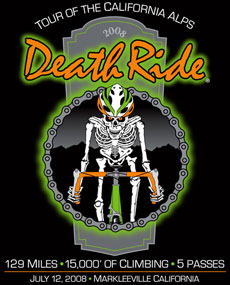 Well this is cool; there is a movie called Driven Up being made about the Death Ride. And they're soliciting riders' stories, and they've posted my story online! ("frozen and soaked" - yeah, that's pretty accurate :)
One day, 129 miles, 15,000' of climbing, 4AM chill, desert heart, mountain rain and hail, yet all around me are smiles. What drives these cyclists up the Tour of the California Alps - Death Ride?
I have no idea. But I do know it was really fun, and I'll probably do it again next year :)
Anyway I've preordered the DVD and can't wait to see it. Stay tuned!