Just got back from Illinois, locked the front door, oh boy, got to sit down, take a rest on the porch...
We had a wonderful time in Montecito, during which I managed to work on nothing except my tan for four days. Yay me. Of course my brain didn't stop and I have millions of thoughts spilling out in all directions :)
Sadly, SpaceX launched their third rocket yesterday, and suffered their third failure. That was the Falcon 1; meanwhile they conducted a successful full thrust firing of their bigger Falcon 9 rocket. I am so rooting for them and we all know that rocket science is, well, rocket science, but oh-for-three is not good. Let's hope fourth time's a charm, as their next launch is coming up.
SpaceX have posted a great webcam movie from the rocket of its five minute lifespan in space. Amazing. (click pic to play.)

A sad side note, this rocket carried the ashes of James Doonan, better known as Star Trek's Scottie. Beam him up, Captain!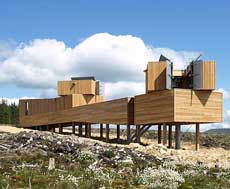 Inhabitat posts about the Kielder Observatory, a self-sustainable astronomy center. When form meets function, beauty is often the result. I love it.
Affymetrix has received FDA clearance for the first gene-expression microarray-based test, for tissue of origin (identifying the original source organ of metastasizing cancer cells). That's cool. (There is more on the FDA's website.) And at bottom this is a software test, the first of many, and indeed Aperio will someday have such tests as well...
If you've been reading my blog, we've enjoyed this year's Tour de France together; John Wilcockson posted his reflections on a breakthrough Tour. "After a Tour in which there was plenty of 'escape, excitement and suspense,' I'm confident that we will all be back next year, either racing through the French countryside, glued to our TV sets or following 'live' updates on the Internet, just waiting to see if Christian or Levi can again challenge for the podium whoever emerges as the man to beat. One Tour is over, long live the next." Amen.
Of course, next up: The Olympics! Yep, they start this Friday, if you can believe it. Personally I cannot wait, my Tivo is warmed up and ready. I just hope I have enough disk space for all that HD. I might have to invest in more :)

Looks like Alejandro Valverde is ready; he handily won the San Sebastian one-day classic. Perhaps he's better on one day than three weeks; he has faltered in grand tours, but looks unstoppable in single day races.

Boston.com's big picture features the Large Hadron Collider.
Wow, that's just about all I can say. Wow.
Most of the iPhone apps I've read about are either games or curiosities; they don't seem useful. However Nullriver's NetShare would be an exception; it lets you setup a computer-to-computer WiFi network between your laptop and iPhone, and then bridges traffic from the iPhone's 3G wide-area network connection to the WiFi network. Essentially your iPhone acts as a 3G modem for your laptop. Sweet!
Looks like Wil Shipley agrees with me; the Mojave Experiment: Bad Science, Bad Marketing. "Is 'Our Customers Are Stupid and Have No Idea What They Really Want' really Microsoft's new mantra?" I don't think it is that bad, I think Microsoft just doesn't think these things through. They're amateurs.
This is pretty funny: McCain makes historic first visit to Internet. "McCain aides said that the senator's journey to the Internet will span five days and will take him to such far-flung sites as Amazon.com, eBay and Facebook." I love it.