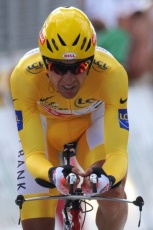 Well a great Tour de France wrapped up this morning; I'm really happy with the way the TT ended up. After his masterful attack on l'Alpe d'Huez Sastre deserved to win, Evans' solid performance was worthy of second (but no more), and Kohl was the surprise of the tour, finishing third and winning the king of the mountains competition. Menchov finished fourth - he made too many mistakes to do better, unfortunately - and Christian Vandevelde finished an amazing fifth overall. Excellent, with some great racing interspersed.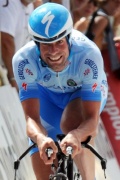 It is remarkable how much motivation affects time trial performances; when the yellow jersey is at stake ordinary riders become extraordinary, as Sastre showed and Contador last year. Oh and by the way congratulations to Stefan Schumacher who won today, after also winning the first time trial, handily beating Fabian Cancellara. I picked him to win this morning (really) even though he was barely mentioned by the commentators on Versus.
Tomorrow we have the parade to Paris, with nothing at stake, really, except a win in the final sprint; I think Oscar Freire's green jersey is pretty safe barring weirdness. I'm always kind of sad at the end of a Tour, it means I have to go back to a normal schedule without three hours of TV watching to do :)
It has been a nice Tour, despite the absence of Team Astana and three of the world's top riders (Contador, Kloden, and Leipheimer); lots of competition and excitement, and plenty of uncertainty. In the years when Lance was winning Tours were cool but rather lacking in suspense; by the time the final time trial rolled around the only question was who would finish second. This was different and better.