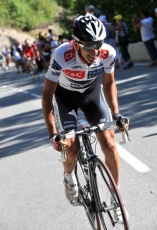 Congratulations to Carlos Sastre, who won today's "queen stage" of the Tour de France, attacking at the base of the legendary l'Alpe d'Huez and putting over 2 minutes into his rivals. He is now the proud owner of the leader's maillot jaune, by a healthy 1:24 over second place Frank Schleck, with Bernard Kohl third at 1:33, and Cadel Evans at 1:34. It remains to be seen whether Sastre leads by enough to survive Saturday's individual time trial, but after today he deserves the win.
I've always liked Carlos but I must admit I didn't think he was going to win this year; I felt if anyone could challenge favorite Evans it would be Denis Menchov. But on today's final climb, with the chips on the line, Carlos totally came through, while Denis attacked but faded, barely hanging on to end up in fifth, a full 2:39 behind. Of the other contenders, Kohl was there at the finish but couldn't attack, and overall surprise Christian Vandevelde treaded water, staying in the lead pack but not threatening to take time from anyone. The Schleck brothers rode well and basically supported their teammate once Sastre's attack was launched.
It was a great stage of a great Tour, dramatic and exciting. Before the fireworks on the final climb we had Stefan Schumacher leading over the first two climbs, just as he did yesterday (!), and the CSC lieutenants like Stuart O'Grady and Fabian Cancellara really ground out a punishing pace, reducing the peloton to just the elite riders and isolating the leaders from their teammates. On the final climb only CSC had several riders left up front, and this made the difference.
Next we have two sprint stages - watch for Robbie McEwen to take a win now that Mark Cavendish has retired to train for the Olympics, and Oscar Freire to defend his green jersey - and then the final time trial Saturday. Stay tuned!