The Ole filter makes a pass...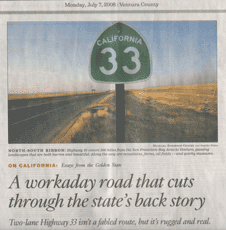 You won't believe this but I'll tell you anyway. On Friday I'll be driving up to Markleeville in the middle of the California Sierras, getting ready for the Death Ride on Saturday, and I've decided I'm going to get there on California Route 33. This is a little known highway which runs North-South, roughly paralleling the much better known I-5 and California 99. I want to visit the San Andreas Fault, and thought it would be interesting to take "the road less traveled". Okay, so today I'm at a deli, and I walk by the newspaper stands (which I usually ignore), and on the front page of the LATimes, big as life, is an article about Route 33! What are the odds of that?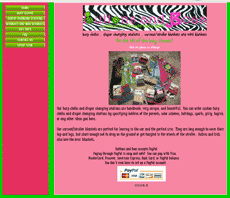 I have to put in a plug for ButtonsAndBoas.com, featuring unique handmade baby gifts. This site was just opened by Tiffany MacTavish, a great friend and former nanny, and she's such a wonderful person anything she does is bound to be great. If you are at all interested in baby stuff, check it out (but you might want to wear shades :)...

This morning I sat down early to watch stage 3 of Le Tour and said to Shirley, "this is going to be a boring stage". All the signs were that it would be a long ride through the flats, followed by a bunch sprint. Wrong. Instead there was a four-man breakaway which succeeded, several crashes, and the peloton split into three pieces near the end, resulting in substantial time lost for some of the GC contenders including (boo!) Denis Menchov. First time tour participant Will Frischkorn of Slipstream Garmin-Chipotle broke away at mile zero and stayed out all day, nearly winning the stage and ending up in third on GC. You just never know, which is why we watch :)

Did you catch Sunday's Wimbledon final between Roger Federer and Rafael Nadal? Many people think it was the best tennis match ever. Daniel Seidel has an interesting analysis of how Nadal was able to win. Simplifying, he played better defense...

Sailing Anarchy notes the Olympics in Greenland. Not good. There just doesn't seem to be any way the Chinese are going to be able to run a regatta in these waters.
Eric Raymond: how to save the music industry. An interesting possibility, wonder what Ottmar Liebert thinks of it?