| | |
| --- | --- |
| quintuple double - joining the 1,000 mile club | |
Yesterday I rode in the Grand Tour Double Century, my fifth this year, and have joined the California Triple Crown 1,000 mile club. Yay, me. This event was the 50th anniversary of the original double; 50 years ago a group of century riders at the L.A. Wheelmen Club bet each other they couldn't ride 200 miles in a single day. I completed it in 11:52 riding time, 13:55 overall, which I'm pretty happy about considering the amount of climbing - 8,300' - and the heat. (I lost six pounds, clearly didn't drink or eat enough, and am rectifying that at this moment :)
As usual I rode with my friend Mark Burson; here we are at the fifth checkpoint, 115 miles in, we're smiling because it was a nice day and there was food at this stop...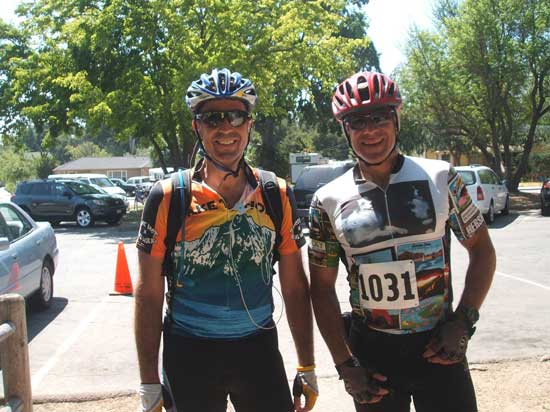 This wasn't the easiest double I've ridden - that would be Solvang - but it was the easiest for me; there is still no such thing as an easy double (there is always at least one point during the ride where you question your sanity) but I think I'm gradually getting used to spending that much time riding all at once. My biggest problem on this ride was food; usually there is stuff at every checkpoint, but for some reason in this ride there really wasn't; well okay, they had bananas and orange slices and such, but how about some sandwiches, some power bars, something with calories? I resorted to drinking [real] cokes, a source of sugar, but not exactly real food.
Next up - the Death Ride (dum dum dum), which is a mere 129 miles, but features 15,000' of climbing...