Yesterday my friend Mark Burson and I completed our fourth double century of the year, the Eastern Sierra Double. It was amazing, a great route starting in Bishop, CA, climbing up through Mammoth Lakes and June Lake to Mono Lake, and then back through the East Sierra badlands near the Nevada border, for a total of 10,000' of climbing. The highlight was definitely the last 30 miles from Benton, downhill and downwind, averaging near 30mph all the way. Took me 14:07 of riding time, which I'm pleased with considering the amount of climbing, and the altitude (most of the ride is above 7,000', and portions peek over 8,000').
Here's a picture of me at the 130 mile mark, having just crested the Sagehen Summit. Note the amazing Sierras in the background.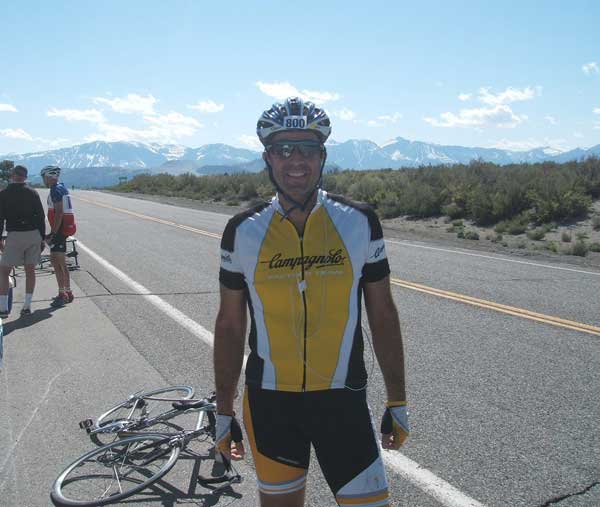 This was also my third consecutive weekend doing at least 100 miles; last weekend I rode the Ojai Century, and the weekend before a 100-mile training ride. Next weekend? Father's Day! I will do nothing :)
By the way, some of you may be wondering what's happening with Ole's Ride for Cancer. Well it is very much still something I'm going to do, I'm making plans for the Furnance Creek 508. I just need to get organized about managing sponsorships, thanks for your patience and please stay tuned...