So I unplugged this weekend, and it was great. No rides, no work, and no kids.
| | | |
| --- | --- | --- |
| Jim Clendenen | Saturday night Shirley and I attended a winemaker's dinner at the Qupé winery in Los Olivos, hosted by Jim Clendenon of Au Bon Climat (left) and Frank Ostini of the Hitching Post (right); yeah, if you saw Sideways, that Hitching Post. We left Saturday morning, and before the dinner drove all over the Solvang / Lompoc / Los Alamos / Santa Maria / Los Olivos wine area. The dinner was fabulous: great food, and even greater wine; fortunately some of the winemakers present sampled their own wares and began one upping each other, and before long the really good stuff was coming out; a '96 Sanford and Benedict Pinot Noir was amazing (from the Santa Rita Hills), but I give the night's honor to a '00 Hitching Post, a Pinot made right there in what is today the Qupé winery, in the middle of the Bien Nacido vineyard; paired with pheasant and butternut squash purée. You might say it had the home field advantage :) | Frank Ostini |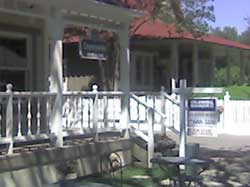 Today we got up at the crack of noon, headed up Ballard Canyon, and ambled through the town of Los Olivos. That sleepy upscale town is doing fine - no shortage of tourists, wine drinkers, or art patrons - but I did notice something kind of amusing; a Countrywide Home Loans office with a Coldwell Banker "for sale" sign out front. A sign of the times, I suppose, for Countrywide if not for Los Olivos.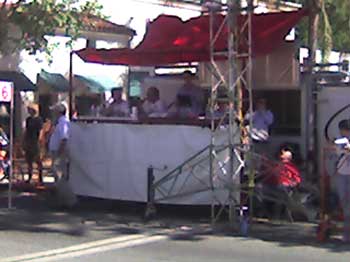 Then we drove the long back way to Ojai (along Lake Cachuma and through foothills of Monecito and Carpinteria). Once there we happened upon the Garrett Lemire Grand Prix, a 45 mile criterium bike race! I swear it was a coincidence, I had no idea. Pretty much at random we picked a little restaurant to have lunch, and upon walking out the front door I discovered we were directly opposite the podium. How cool was that!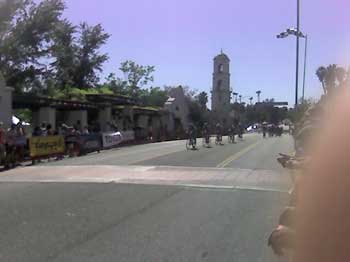 So we ate a leisurely lunch while the riders did lap after lap in the 95o heat, and then walked out to watch the finish, as the survivors of a 20-man break sprinted home. Pretty awesome. Kyle Gritters outkicked the field for his first pro victory. Once again I must tell you that you have to see a pro bike race live in order to appreciate the power and speed.
Anyway I'm back now, rested, mentally and physically, full of food and wine, and with my batteries charged. As I plug back in I am happy to note my experiment with using Gmail as a server-side spam filter remains a massive success. Just a few wayward spam have escaped, and meanwhile there are over 7,000 spams on the server. How satisfying... Onward into the week!