Big week ahead for me - many meetings, much to do, and then at the end of the week Aperio moves into a new building. Yay! and Whew. I'm having a Sunday night meltdown wherein I feel bad that I didn't get enough done over the weekend. That's when you know you're a workaholic. Not that I didn't know it before, but still.
The Economist: Where angels no longer fear to tread; scientists attempt to explain religion. "Religion cries out for a biological explanation. It is a ubiquitous phenomenon - arguably one of the species markers of Homo sapiens - but a puzzling one. It has none of the obvious benefits of that other marker of humanity, language. Nevertheless, it consumes huge amounts of resources. Moreover, unlike language, it is the subject of violent disagreements." Interesting stuff. [ via Panda's Thumb ] I think Daniel Dennett's seminal Breaking the Spell does a great job of investigating religion from a scientist's point of view.
Powerline explains the current fighting in Iraq. If you don't understand the significance of fighting in Basra vs. fighting in Baghdad (I didn't), you will appreciate this clear explanation. And you will not get anything like this from the MSM; they seem to equate fighting = bad = Bush-is-bad without further insight.
Reuters: Zimbabwe's meltdown in figures. These numbers tell the story of one of the worst governments of all time, amid heavy competition. [ via Glenn Reynolds ] Dare we hope that Mugabe will be defeated? We dare.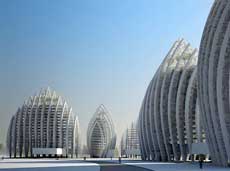 The fascinating inhabitat showcases Sustainable towers in Malaysia. Beautiful, practical, and environmentally sound... and still in the planning stages, unfortunately. But we'll see.
The Dash Express is now shipping! A two-way GPS, including realtime traffic information. How cool is that?
Mark Evans ponders Why Original Blog Thought is So Difficult. Not a deep analysis, but a good question. I guess there are a lot of linkers out there; I'm one, a lot of the time... but there are also thinkers, and I'm one, at least some of the time. I think linkers provide a useful service in that they act as filters for material created by thinkers. Otherwise why would you read this blog :)