Gone again, back again. A good trip, but it's good to be back.
While I was out, the good folks frequenting the Money Saving Expert forum conducted an impromptu load test on my blog; apparently they like the Paper Art exhibition (over 5,000 page views today). Great, except that page has 26 big images. Bandwidth was scarce, sorry if you experienced slowness or downness.
Oh, and there is a lot going on out there... let's take a look...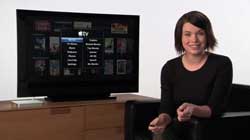 The great Wither DVD survey has wrapped up; unsurprisingly online downloads won, with 45% of the votes, followed by Blu-Ray with 30%. Meanwhile Apple have just released the AppleTV 2.0 update, which enables an AppleTV to act as a video-on-demand settop box, including downloading HD-quality movies. I haven't had a chance to upgrade mine or try this yet; stay tuned. For now check out the Apple guided tour or PVRblog's review: "Overall in the short time I've been able to play with Apple TV 2.0, I've seen a lot to like and the biggest change is definitely the feeling that this is now a standalone device that I can use to browse photos and look for podcasts and it's not simply a container for my downloaded music and movies like it was before."
This is incredible: Randall Parker reports UCLA group turns skin cells into embryonic cells. "This research helps to get around the opposition to embryonic stem cell research. But these results also demonstrate progress in understanding cellular differentiation." Excellent. Who needs stem cells?
LGF on Obama's CheGuevara-gate: Outside the beltway and off the rails. As always, it isn't the act, it's the cover up that gets you in trouble. I could have well believed Obama wasn't responsible for the posters and that he doesn't support Che Guevara in any way, but his response to the affair raises some questions.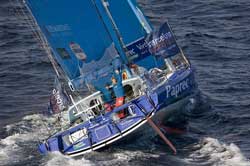 Congratulations to Parpec Virbac, who have won the Barcelona World Race. "Jean Pierre Dick and Damian Foxall have crossed the finish line at 20h 49.49 GMT in the port of Barcelona and officially are the winners of the first edition of the Barcelona World Race." Not only a race of speed, but of survival; and what a beautiful yacht; looks like a giant racing dingy. (Click pic to enlarge.)
I can't actually believe this: ASO have banned Astana from the Tour de France. That means three of the top GC riders, Contador, Leipheimer, and Kloden will not participate. And neither will Johan Bruyneel, DS for eight TDF winners, who has never had a rider banned for doping. This makes zero sense. On Velonews, nobody else thinks so either. Fortunately the Vuelta quickly said Astana were welcome there. Stay tuned, this will be a wild ride.
Oh, and meanwhile both Slipstream and High Road, the two U.S. top-level teams, were invited to Paris-Nice. This probably means ASO will invite them to participate in the Tour also. So at least Hincapie will be in it.

I wonder if this means Rabobank won't be invited either? That would mean no Menchov. With all those guys out, you could just give the yellow jersey to Cadel Evans right now...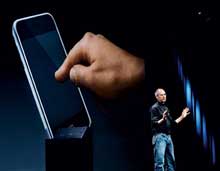 So, is Flash coming to the iPhone? Andru Edwards says yes, John Gruber says no, and then later expounded on the background politics. I agree about the politics, but I'm not so sure about Flash; there isn't a desktop web and a mobile web, only one web, and on that web Flash is pretty important. In fact one of the main reasons people use Flash is so their apps are cross-platform, by which everyone means "supports Macs in addition to PCs". I would think Apple wants all those apps to work on iPhones, too. Anyway stay tuned, we'll all find out soon.
GM lost $38B last year. Wow. They're toast. It is now only a matter of when, not if...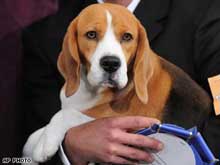 There's a new top dog at Westminster: everyone's barking about Uno. He is cute.
An incredible story: The White Lobster. "People here don't have to work. Every week, sometimes every day, 35kg sacks of cocaine drift in from the sea. The economy of this entire town of 50,000 tranquil souls is addicted to cocaine." From the department of unintended consequences! [ via John Robb ]