| | |
| --- | --- |
| more on the cowboy's dilemma | |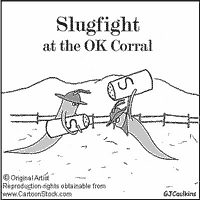 Yesterday I posted the cowboy's dilemma. Maybe you thought the answer is obvious, or not, and maybe you thought it was a trivial puzzle. But there's a surprising message in there. I'm not ready to tell you the answer - and there is "an answer", by the way - but I will give you a hint.
The problem is carefully worded: "Where or who should you shoot first?" There are two other cowboys, but there are more than two possible answers to this question... More tomorrow.
Update: here's the answer.
Update: here's a detailed analysis.