Ah yes, the ol' Ole filter makes a pass...
The Floyd Landis hearings are underway not far from me, at Pepperdine Malibu. A three-member arbitration board will decide his fate. See Velonews for great ongoing coverage. So far after two days, it seems both sides have landed a few punches but no knockouts (except for a French interpreter who couldn't, er, interpret French).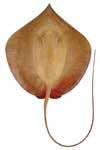 The Smithsonian asks "what happens when you mix evolution with climate change?", and answers Species Explosion. "Already this year researchers have announced the discovery of a bunch of new species: 6 types of bats, 15 soft corals, thousands of mollusks and 20 sharks and rays, to name a few." (One of the newcomers is Hortle's whipray, shown at right.) So be it. [ via Jason Kottke ]
Apropos my rant regarding Exporting IP, ArsTechnica reports piracy rate in China down 10 percent. Good news, shows you what a little capitalism will do, eh?

So, the Treo 755p is available from Sprint. Decisions, decisions...
Michael Arrington introduces Bringo! "Here's how it works: 1. Find the company you'd like to call. 2. Enter your phone#. 3. Wait a few seconds while we navigate the phone tree. 4. When we call you back, pick up your phone and you're done. No more phone trees." I have no idea about the business model (is there one?) but I have no doubt about the usefulness. Neener neener to all those companies that don't believe humans should answer their phones.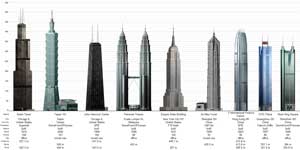 This is amazing - the SkyscraperPage! Diagrams of all the biggest buildings in the world, with all kinds of architectural detail. The nine tallest skyscrapers in the world are shown at right; click for larger pic. The website is nearly as amazing as the drawings, which are nearly as amazing as the buildings themselves... Proof that you can find everything on the Internet, and everything is so much more than you ever thought.
The World Atlas has the highest lowest smallest tallest deepest oldest youngest Continents Countries Cities etc. Really excellent information. Remember when you were a kid, and you needed to look this stuff up in encyclopedias and things? Man was that tough. Now you just Google and poof! there it is...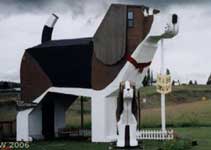 And going right along with that, here we have Unusual Hotels of the World. Everything from underwater to boats, igloos, farms, castles, lighthouses, you name it. Even prisons and treehouses :) The picture at left shows Dog Bark Park, a unique two-storey beagle in Cottonwood, ID. Check them out by WOW rating...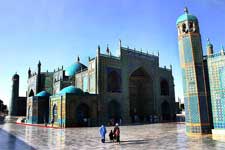 The Earth Album has stunning photos of the world superimposed over Google Maps, such as the Blue Mosque, in Afghanistan (shown at right). Travel around and watch the pretty pictures, without leaving the comfort of your keyboard.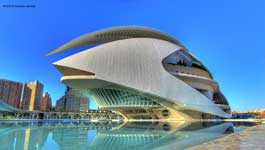 This has to be one of the most beautiful buildings in the world: the Palacio de las Artes Reina Sofia, in Valencia, Spain. The HDR picture from Salvador del Saz is pretty awesome, too.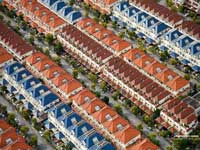 And here are some more amazing aerial shots, from a Russian photographer. I can't read the site but I sure can admire the pictures. You have to click through to see these! (I love all the Russian comments and ads, too; there is a whole world out there which doesn't speak English, and it is great to be reminded once in a while...)