Last night Shirley and I attended "Destination Celebration", a charity fund-raiser for the Assistance League of Conejo Valley (for which Shirley serves as VP/Fund-raising). The event was held at the Reagan Library in Simi Valley, which recently added a huge pavilion housing Air Force One. Not a model, mind you; the entire airplane, the very Boeing 707 which served seven Presidents from 1973 through 2001. Pretty darn cool. If you ever have a chance to visit the Reagan Library and see this exhibit, take it; the whole thing is fascinating. They actually placed the plane on the site, then built the pavilion around it, including a dramatic 60' x 200' glass wall.
Here's a cheesy shot of Shirley and me pretending to be the First Couple, emerging from the doorway of the plane: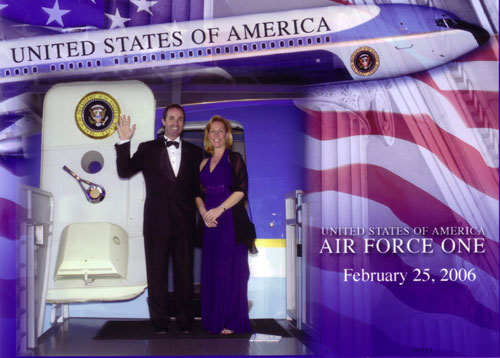 (click for larger pic)
Yes, I know. But it was fun. To get an idea of the scale of things, check out this photo: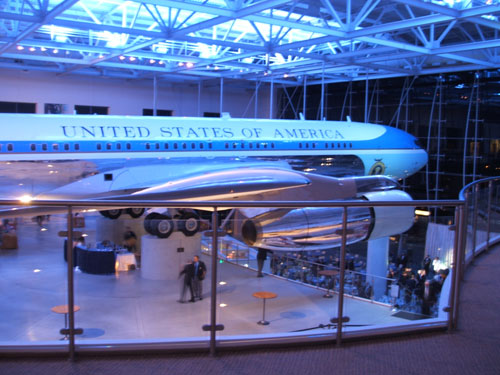 (click for larger pic)
They didn't allow flash, sorry for the blurriness. Note (if you can) the tables way down below the nose of the plane, that's where 200+ people had dinner and danced the night away.
Anyway, the event was a huge success - raising a lot of money for underprivileged kids - and we had a great time. I wasn't a big Reagan fan while he was President, but somehow his legacy has worn well; I think history will regard him as a good if not great President. Certainly a lot of interesting things happened during his time in office ("Mr. Gorbachev, tear down this wall"), and the library is an interesting record of the time.