I support a number of charities, some of them because of the work of my wife, Shirley, who is VP/Fundraising for the Assistance League of Conejo Valley. But my favorite is the Lance Armstrong Foundation, not only because of Lance, or because of the little yellow wristbands (yeah, they're cool), but because of their work fighting cancer. I recently made a donation in memory of my friend and ex-partner Daniel Jacoby, who lost his life to cancer. I'm pretty proud of this: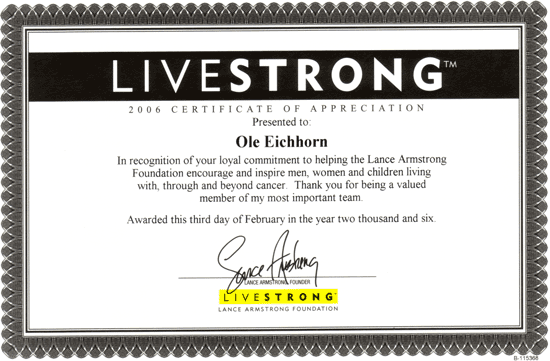 Sure, I know, it's just a piece of paper. But I find it inspiring.
It even helps motivate me in my work for Aperio, too; our customers are Pathologists, many of them doing cancer research or treating cancer patients. Our systems help them do their work faster and more accurately, and if we help them even a little, we're helping the world, too.