From Sailing Anarchy, a great blog (which unfortunately does not have permalinks):
Is this the largest fleet for a World Championship? 175 505's are registered for the CSC 2005 505 World Championship in Warnemunde, Germany! And yes, they will all be racing on the same course, at the same time. Team USA is 10 boats strong, and I think it's noteworthy that Howie Hamlin and Cam Lewis are sailing together again, with a combined age of about 100! On the other side of the spectrum, California high school sailing phenom, Parker Shim, has bought a boat and will also be competing.
Can you even imagine 175 505s on one start line? Good thing they use a rabbit start. I would not bet against Howard and Cam, man, what an all-star team!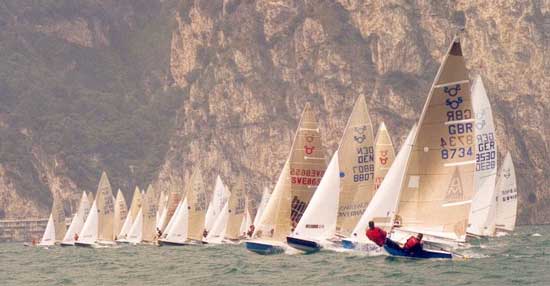 A 505 start
The boat on port tack is "the rabbit", everyone else starts on starboard and must duck the rabbit.
Typically the rabbit is the boat which finished 10th in the previous race.
I sailed in the 505 worlds at Kingston, Ontario, back in 1990. "Only" about 100 boats. We sailed our asses off and finished about 40th. I really think boat-for-boat the 505 fleet is the strongest in the world. If you win the 505 worlds, you're my hero.