Thought you might like a little update on icebaby, my new Mac Mini.
Here's the scene in my office, with the little guy in action: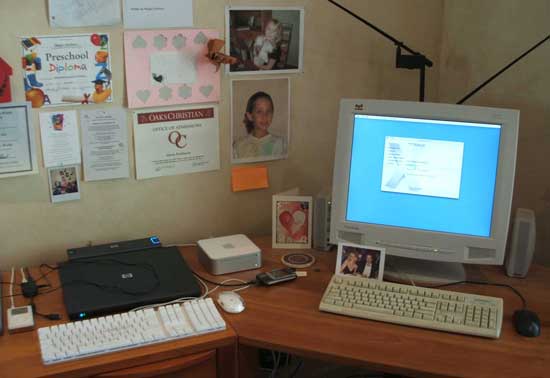 The mini happily shares my ViewSonic 21" monitor with my HP laptop, both using DVI. The display is rock solid. As you can see I haven't motivated to buy a KVM switch yet, so I have two keyboards and two mice. I might not really need one because 99% of the time I use icebaby via Timbuktu from my laptop, which works great. (I can probably get rid of the Mac keyboard and mouse altogether.) I've found this machine is considerably faster than icequeen, my four-year old "lamp" iMac, so I'm gradually migrating my development over. The little baby runs RealBasic and xCode just fine, which is what I do all day long...
My only real complaint so far is that it won't boot "headless", without a display attached. Well it will, but then the resolution through Timbuktu is only 1024x768. If I want 1600x1200 I have to actually plug in my display while it boots. Not a huge deal, but it is annoying. If anyone knows of a software workaround please let me know.