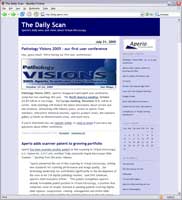 After an inexcusable absence of six months, I've begun posting to the Daily Scan again.
There is so much stuff going on at Aperio these days and I really should be telling everyone about it. New posts include news of the settlement of our litigation with Bacus Labs, the issuance of another Aperio line scanning patent, and announcement of Pathology Visions 2005, our first user's conference. If you're interested in Virtual Microscopy or Pathology please bookmark or subscribe if you haven't already.
And please tell me what you think - it has comments!