Friends –
On Saturday August 6 I am again participating in the Westlake Sail-a-thon. This is the 12th anniversary of this event; last year it raised over $40,000 for Casa Pacifica Children's Crisis Center, which helps victims of child abuse and neglect.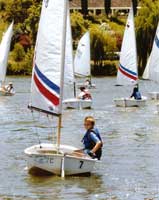 For nine hours participants sail "laps" around Westlake. Two years ago my team sailed 38 laps, more than any other team. This year we are once again going to try to break the record of 47 laps – wind willing! My team will again consist of myself, my daughters Alexis and Megan, and whatever friends they bring along…
I'd like to ask each of you to help by sponsoring us. Typical sponsorship levels are $.25/lap, $.50/lap, or $1/lap (about $10, $20, or $40, respectively). It really is a great cause. If you're interested in sponsoring us please just send me an email; after the event I'll report on how we did :)
Thanks in advance for your help and support!
P.S. And thanks to all my friends and colleagues who've already pledged their support; as of now if we sail 38 laps again we'll raise over $1,500. That's awesome!