Playing a bit of catch up, I have a weeks' worth of posts to filter :) May you live in interesting times, indeed...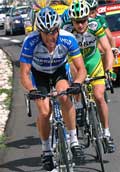 So, the Tour de Lance France is underway! And in the very first stage Lance managed to put serious time on some of his biggest rivals, including Jan Ullrich. Serving notice that he is ready, once again, to win. I love it. I've been watching on OLN, and it is pretty darn cool. I just wish my Tivo supported this channel so I wouldn't have to watch all those commercials...

Speaking of Lance, have you Joined Team Lance? In addition to being a cancer survivor and an amazing athlete, Lance has raised tons of money for cancer research and to help cancer survivors. If you join his team you'll be making a donation to one of the best causes around. And if you donate at least $50 you'll even get a spiffy tee-shirt. I'm in!
The G8 are meeting next week in Gleneagles Scotland. Among the items on the agenda is global warming; The Scientist reports Scientists demand action on climate. "Scientific academies from the world's leading nations have issued an unprecedented joint statement urging the leaders of their countries to commit to taking prompt action to reduce emissions of greenhouse gases. The statement from Britain's Royal Society and the science academies of France, Russia, Germany, United States, Japan, Italy, and Canada was released ahead of a G8 summit in Gleneagles, Scotland, at which climate change is expected to be a major focus. The academies of Brazil, China, and India, not members of G8, are also signatories." Whew. Is it just me, or is it getting hot in here?

The Business Online observes: spot the real sharks in the climate talks. As in, due to warmer water, Scotland now has sharks! Coupled with declining oil supplies and rising prices, there is now real pressure for alternate entropy sources. Nuclear option, anyone?
Jeff Atwood: Why anyone can succeed. Although the premise is that success has little to do with talent, my conclusion is nearly the opposite, that success follows from talent regardless of circumstances. Not everyone can be a programmer; I've encountered any number of counter examples.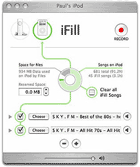 Cult of Mac notes Griffen's iFill. (motto: "Oww. iFill good".) "iFill streams mp3 files from thousands of free radio stations directly to your iPod. You can choose several stations at once and select from many different genres. And since iFill goes directly to your iPod, it won't clutter up your hard drive with extra files." That sounds awesome. Much better than random podcasts.

It is now old news, but iTunes 4.9 is out, with - ta da! - podcasting support. (Billed as "the next generation of radio".) So be it. This will expose about 10X more people to podcasts than ever before; let's see what sticks to the wall...

Russell Beattie says Wow!
Amazing: Brain Scans Can Predict Alzheimer's Disease Onset 9 Years In Advance. The psychological implications are as interesting as the physiological ones, if you knew you were getting Alzheimer's in 5 years, what would you do?

Meanwhile, Brain Exercise Is Key to Healthy Mind. So keeping read my blog :)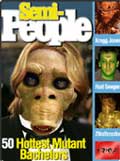 This is awesome: The Onion in 2056. E.g. "Million robot march attended by exactly 1,000,000 robots." Or maybe you prefer "Lunar Olympic officials continue search for missing pole vaulter." Great stuff, please check it out. I've often thought the Onion must be a great place to work.

Bram Cohen, inventor of Bittorrent, considers Avalanche, Microsoft's supposed answer to peer-to-peer transfers. "I'd like to clarify that Avalanche is vaporware... As you've probably figured out by now, I think that paper is complete garbage." Okay.