The Dutch are apparently losing interest in the EU. So be it. I'm Dutch, maybe that explains why I've lost interest. Do you care? No? Hey, you might be Dutch, too :) [ via Instapundit ]
Philip Greenspun found an awesome Easter egg: Fun with the Incredibles DVD. "Sit back and enjoy a clip of my cousin Doug Frankel riding a scooter through the hallways of Pixar." Whoa.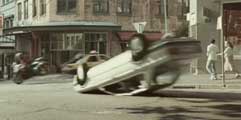 Stunt City - an awesome deodorant ad set in a city where everyone performs stunts. I especially love the way everyone "drops in" to a meeting. Must see. [ via Cult of Mac ]
Here's a link worth saving - LA area hotspots! [ thanks, Sean ]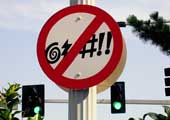 Horse's Mouth with a sign of the times?
You probably saw this article about two Star Wars fans who were filming a mock light saber duel with fluorescent light bulbs filled with gasoline. I wouldn't link it except as a segue to L.T. Smash: the force was not with these two morons. I especially like Ben's comment: Darwin Award winners they will someday be.


Kittenwar. May the cutest kitten win.