I've been testing a Sony Location Free TV. The concept is really cool - you have two parts, a video server and a wireless video receiver. The server sits in your home entertainment center, and the receiver can go "anywhere". Well, it doesn't work.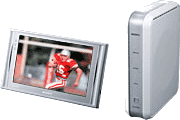 After playing with it for a while I have a bunch of quibbles, but at the highest level there is only one problem, the receiver cannot be far from the server. The server itself acts as a wireless hub, using either 802.11g or 802.11a, but either way the range is about 30'. When running this way the picture is perfect, but 30' just isn't useful. I wanted to put the server in my family room and use the receiver in my kitchen, but the range just wasn't good enough for that.
You can also transmit video over your WiFi network, or any other network for that matter, but when you do that the picture quality is rotten. I have 802.11g WiFi in my house and have good reception "everywhere", as measured with my laptop, but in this mode the picture was pixilated and the frame rate inconsistent. No good.
I also found the device complicated; I could set it up, even enjoy the complexity, but this is not a device for the average consumer. They also tried to do too much; you can use the receiver to surf the web and exchange email, but who wants to do that? Anyway this is a first generation product, I have no doubt there will be many "location free" video devices in the future, and they will work. Sony is on the bleeding edge with this one and it just isn't quite there.
So this device goes into the "dancing bear" category; it is cool that it works, but it doesn't work well enough to be useful.