So what did you make of this?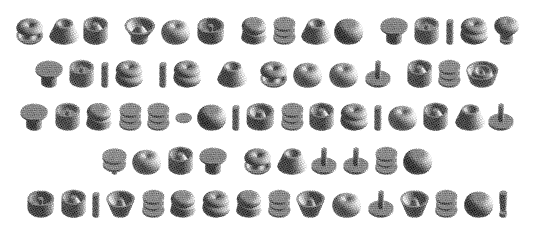 It was written with a 3D font called UniversRevolved, and it says:
CAN YOU READ THIS?
THIS IS A COOL NEW
THREE-DIMENSIONAL
FONT CALLED
UNIVERSREVOLVED!
I came across this font, designed by Ji Lee, in Wired magazine a couple of months ago. He took the Univers font and rotated it, creating characters which have rotational symmetry yet recognizably represent capital letters. Very cool.
I had only the printed pages of Wired magazine, but I wanted this as a font, so I scanned the pages, edited them in Photoshop, and then created a font using High-Logic's Font Creator. The tough part was converting grayscale surfaces into the pure black-and-white shapes needed by font glyphs, using a skewed diamond halftone screen.
If you're interested you can download the TrueType font here. Simply copy to C:WindowsFonts, and poof, you too can write in 3D!