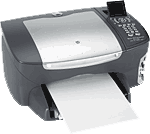 We just acquired a new toy; an HP psc2501 all-in-one printer. Well, I say printer, but it is also a scanner, a copier, a fax machine, and a photo printer. And best of all, it communicates with WiFi, so you can put it anywhere on your network.
So let me just say - so far I love it. The user interface engineering is impressive; there is a little LCD display which walks you through any task, and there are a minimum of buttons. Each function is straightforward. For example, to make a copy you press Copy, then either Black&White or Color, and Poof! - you get a copy. The print quality is really impressive, too. I bought an optional photo print cartridge, which allows you to print photo-quality prints on photo paper. It really works.
I have PCs and Macs, and they both worked out of the box. The HP software installed seamlessly on both, even to the extent of providing TWAIN drivers so I could scan from Photoshop (both platforms).
Another cool feature - the printer has a website! You simply put its IP address into a browser, and you can monitor cartridge ink levels, change configuration data, even initiate a scan (the resulting image is downloaded through your browser as a JPEG or TIFF file).
And another cool feature - the device is a reader for photo media; it supports CompactFlash (I & II), Memory Stick, MultiMediaCard (MMC), Secure Digital, SmartMedia, and xD memory cards. I have an Olympus camera which uses SmartMedia, and I was able to put the card into the printer and print photos right away. The device also acts as a reader; you can download photos from a memory card to your computer.
Overall I am really impressed. There are about six devices in my household we no longer need - a 10-year old Apple LaserWriter, an Epson Stylus Color dot-matrix printer, a Canon scanner, an Olympus photo printer, and a Canon personal copier. (eBay, here I come :) If we had a fax machine we wouldn't need it anymore, either; we've actually been using my computer as a fax machine, which is kind of a pain. So now we have a dedicated fax machine.
Nothing is more fun than a great new toy...