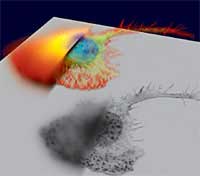 The Scientist has an interesting article about Rendering Images in 3-D:
To the uninitiated, three-dimensional microscopy makes the pretty pictures of fluorescently labeled cells that grace the covers of scientific journals. But to today's microscopists, the capacity to render images from 3-D and 4-D datasets is critical for studying the distances between objects in a sample and for tracking how complex samples change over time.
The article discusses many of the techniques commonly used for 3-D imaging, including confocal microscopy and deconvolution (illustrated in picture at right).
Aperio's ScanScope digital slide scanner is capable of scanning microscope slides at multiple Z-levels, yielding a 3D dataset. This is particularly useful for cytology preparations and other "thick" specimens. Please click here for an example of 3-D virtual slide viewing.