Terry Heaton reports the recent South Korean elections were decided by citizen-powered news. "The liberal Uri Party swept into power [April 15] in the National Assembly elections, ending 44 years of conservative rule in the country. What you'll likely NOT read is that this was accomplished largely through the steady efforts of a New Media entity that fought the conservative press in South Korea. OhMyNews! is an Internet-based media company that took on the giants and won in its bid for influence. In so doing, it has involved young people in the political process in record numbers and turned the whole culture on its ear. It's a wake-up call for traditional media everywhere." [ via Bill Hobbs ] In this connection, it is worth pointing out that South Korea has the highest per-capita broadband penetration of any country, as well as the highest average hours-spent-surfing.
Josh Marshall can't figure out why the latest polls have Bush gaining on Kerry, despite, as he puts it "two or three weeks when the news for his White House has been universally and profoundly bad - principally because of the uptick in fighting in Iraq, but also because of the 9/11 business." It's really quite simple. War is the right issue. As long as "war news" dominates the headlines, Bush will win.

Einstein is off! The Gravity Probe B satellite designed to test general relativity has been successfully launched into space. Excellent.
The article notes: "Mission controllers grounded the probe for 24 hours due to uncertainty about flight software during the countdown on Monday." Ah yes, the software release control problem :)
I'm not sure what to make of this: Schwarzenegger promises California 'Hydrogen Highway' by 2010. "Governor Arnold Schwarzenegger signed an order Tuesday for California to have a network of stations offering the pollution-free hydrogen fuel up and down the state within six years." Interesting.
Rafe Needleman contemplates Skype economics. Skype is a new P2P voice-over-IP offering; unlike Vonage it uses your computer rather than a 'phone as the handset, and also unlike Vonage it is free rather than $30+ per month. On both counts it seems like a worse business. We'll see, but I think Skype will go the way of Kazaa (Skype founder Niklas Zennstrom's previous venture); a wildly popular app which does not lead to a commercial success.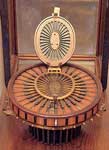 Do you know what this is? Mark Frauenfelder asks the question. It seems the prevailing theory is that it is a "conformateur"; a device for measuring the shape of a person's head by poking little holes in a piece of paper fastened in the oval clip shown hinged open, for the purpose of making a form-fitting hat. To me it looks like a Riven linking book holder :)

Going Dutch - in style. Slate features Rem Koolhaas, "the most influential architect of the last decade." The picture at right depicts the CCTV headquarters building, in Bejing. Awesome - sculpture you can work inside!
A medical mood ring: "MIT mechanical engineers Harry Asada and Phillip Shaltis have developed a 'ring sensor' that monitors the wearer's temperature, heart rate, and blood oxygen level. The battery-powered ring contains a wireless link that can transmit vital signs to a cell phone or computer, allowing a caregiver to determine remotely whether a patient needs assistance." This is the future, and it's here now.
Wired reports Science Women Get Cinematic Boost. Two new movies in preparation chronicle the lives of Rosalind Franklin, the under-publicized third hero of the discovery of DNA, and Hedy Lamarr, the Hollywood pinup who filed a patent on spread-spectrum technology. Wow.
The NYTimes: Studios Rush to Cash in on DVD Boom. "Between January and mid-March this year, Americans spent $1.78 billion at the box office. But in the same period they spent $4.8 billion - more than $3 billion more - to buy and rent DVD's and videocassettes." Which suggests there's a market for video-on-demand... [ via Dave Winer ]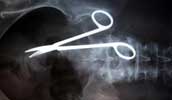 Yahoo: "An X-ray showing a 17 centimeter (6.7 inches) pair of surgical scissors in the abdomen of 69-year-old Pat Skinner in Sydney, Australia. Mrs Skinner had an operation at St.George hospital in Sydney's south in May 2001, but continued to suffer intense pain and it was only when she insisted on an x-ray 18 months later that she discovered the scissors inside."
BW wonders Can .Mac withstand the G-force? Essentially this is the editors' suggestion that Apple abandon their .mac service in favor of a co-branded offering of Google's new email service. This isn't a horrible idea, but why do the BW editors continuously try to run Apple? They periodically admire Steve Jobs for doing a great job, but they can't help trying to run it themselves, anyway.
Apple just made their G4 powerbooks faster and lower the prices, too. They recently reported a strong quarter led by sales of the new mini iPods. They must be doing something right :)
In Search Boosters for your PC BW admires X1. I, too, feel X1 is a good thing; if you're not using it to search your Outlook folders and hard drives, you should be.
Interesting article on InfoWorld: Can email be saved? Six pundits give their solutions to the problem of spam.