Weekend wrapup...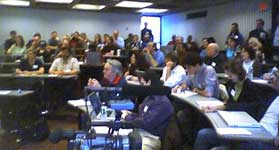 I want to echo Andrew Grumet and John Palfrey in thanking Dave Winer and the staff of the Berkman Center for hosting BloggerCon II. The value of a conference generally sinks in after the fact, so one day's perspective is probably not enough, but already I feel it was quite valuable in non-obvious ways. The greatest effect of an experience like this is in what it makes you think about, not what you learned.
Time reports: See me, blog me, about video producer Steve Garfield (who attended BloggerCon, BTW). "Boston-based music-video producer Steve Garfield, 46, is no ordinary blogger. Garfield belongs to a small but growing legion of video bloggers, or vloggers, who are turning the Web into a medium in which someday anyone could conceivably mount original programming, bypassing the usual broadcast networks and cable outlets." Excellent.
Scientific American carries an interesting study about where in the brain aesthetic tendencies are located. "One trait believed to differentiate humans from other primates is the ability to appreciate aesthetics. Scientists have suspected [and these studies show] that such judgment stems from an area of the brain called the prefrontal cortex--one of the last cortical regions to expand dramatically over evolution..." Fascinating. This is further evidence that beauty was evolutionarily selected.
Opportunity continues to "rock": UPI analyses the import of the 'Bounce' rock. "Controllers considered Bounce an odd find because it did not resemble any of the other rocks in the crater's vicinity -- nor did it resemble anything seen before on Mars. So they ordered Opportunity to train its formidable instruments on the rock. The results stunned the NASA team... Bounce's chemical composition exactly matches that of a meteorite that hit the ground in Shergotty, India, on Aug. 25, 1865." Okay, now that's weird, it means maybe Earth and Mars have been exchanging rocks for millions of years.
Peter Rojas explains how to read RSS feeds on your iPod. I know you've been dying to do that, haven't you?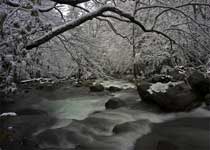 Check out the Smoky Mountain Journal - just one great picture after another taken from the Smoky Mountains between North Carolina and Tennessee. Just keep scrolling, they're all amazing. [ via Glenn Reynolds ]
WorldChanging notes an upcoming PBS series World in Balance, about global population trends. Looks like a must-Tivo. [ via Ottmar Liebert ]
And speaking of Ottmar, his latest album La Semana is about to be released, and he's going on tour! Mark your calendars - I know I have...
Time Magazine have released their annual list of the 100 most influential people. Once again, I am not on it.
Apparently Baystar, the investment group propping up SCO in their effort to hold Linux hostage, has requested that SCO redeem a sizeable block of 20,000 shares, citing breaches of their agreement. This is excellent news, because it means SCO will have less money to piss away on lawyers. This is going down in history as the most blatant attempt at IP blackmail ever.
Watch out, everyone; here we have frames without frames. This is pretty tempting :) [ via Mark Pilgrim ]
(Okay, okay; I was just kidding. Whew.)