| | |
| --- | --- |
| "The Big City" - New Yorker magazine cover gallery | |
And now we present - for your enjoyment...
...a gallery of seventy-two New Yorker Magazine covers spanning 1925-2003.
Regular readers know I'm a big fan of the New Yorker, despite not living in New York and not agreeing with the prevailing left-wing political views it espouses. The writing is top-notch, thought provoking, and just downright fun to read. Not to mention their cartoons, which are excellent and worth a subscription just on their own.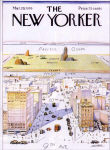 Over the magazine's 79-year history it has also become known for its covers, some of which have become cultural icons, like Saul Steinberg's whimsical 1976 cover (right).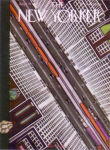 More often the covers express a unique mood or feeling, or embody a point of view available only to the artist, as in the 1928 cover by Adolph K. Kronengold (left).
A few weeks ago the magazine published a special suppliment entitled "The Big City", featuring seventy-two of their best covers. I decided to scan them and post them in an online gallery.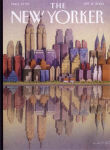 My favorite? That would have to be the September 2003 cover by Gürbüz Dogan Eksioglu, which just gives me chills each time I view it (right). See if you don't agree.
All these works are ©2004, The New Yorker Magazine.