I just read John Grisham's The King of Torts. Now, I'm a Grisham fan, going all the way back to The Firm. This is his worst book by far. The setup is great, the characters are great, everything is going along - and then the book ends! What!? I was eagerly anticipating one of those patented Grisham plot twists, where he ties up all the loose ends in a nice bow. Nope. Skip this one.
Ever wonder how this happens? There's this artist you really like - author, musician, playwright, painter, etc. (or winery!) - and they are so consistent, and so great, and then suddenly it's like they just give up. They get bored or something and put out low quality work. How disappointing is that! Do they know? Or is it just me?
Check out this terrific speech by author Michael Critchton, given at Caltech about a year ago. He takes on "fake science" in many areas, including SETI, nuclear winter, global warming, and second-hand smoke. Really thought provoking - especially for those trying to figure out the Future of People :)
Mark Kleiman comments, including especially his thought that while models are indeed imperfect (as claimed by Critchton), they are important, as the future cannot be known any other way. As usual the truth lies in the middle; models are imperfect, and they are important. How imperfect or important depends crucially on the model, the timeframe, and the phenomenon of interest.
This is good news - U.S. to visit N. Korea nuke site. Not because we'll find something, or because we won't, but because any interaction with NK is helpful.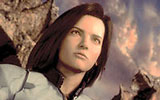 You knew I was going to link this - the Miss Digital World pageant is a beauty contest for digitally-rendered women. I love it! [ via Cory Doctorow ] My vote goes to Dr. Aki Ross in Final Fantasy.

Add Philips to the long list of vendors making "media hubs" for connecting home entertainment centers to PCs. It does video as well as audio, and includes a wireless networking adapter for your PC.
The NYTimes reports Astronomy's New Grail: the $1B Telescope. When you're trying to gather photons, size matters. For example, the proposed ESO 100M OWL telescope. Yeah, that's 100M as in a 325' mirror. Wow!
Meanwhile, up in space, NASA's Stardust space probe has successfully passed through the shimmering tail of the Wild 2 Comet, collecting dust samples and taking photographs in the process.

And tomorrow night the Spirit Mars Rover lands! It sure is great to have all this space exploration activity going on.
California has banned the use of computers in the front seats of cars. I am not making this up. No more blogging from my Treo while driving?

Hey, I want one of these! For auction on eBay, a Star Wars scout walker. Currently going for $19,000...
Matt Haughey writes users have figured out how to hack the Gateway connected DVD player. Notably, they're now able to stream DivX movies.
Jim Fawcette posts Challenge to Open Source, Innovate, Don't Copy. But Tim Bray thinks Fawcette Doesn't Get It. Read them both, you decide. Personally I think Open Source projects have an impressive track record of innovation. And the implication that Open = Free is misleading.
USAToday discovers Freewheeling bloggers are rewriting the rules of journalism. We are? "People are no longer simply consumers of political news. They're publishers of their own... It's like having a giant communal brain." Excellent, I'm part of that brain! [ via Doc Searles ]
And so are you!