Shirley and I have some parties coming up - my birthday, a dinner party, and an open house - and so we have to pick wines. I visited our local cheaper-than-dirt wine distributor (Wade's Wines), and picked eight possible chardonnays, in the range $5-$30 per bottle. I also threw in a known-to-be-good $50 bottle for comparison, and we did a blind tasting. Hey, it's hard work throwing parties :)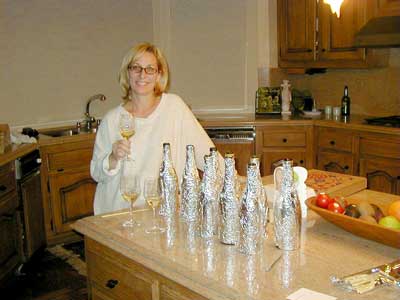 Tasting Chardonnay Blind
The results were amazing. I totally mis-called which wines I thought I'd like. My personal favorite going in was the 2001 Forman ($30), which ended up dead last. This is why you have to taste blind.
Remarkably, Shirley and I had similar tasting notes. We both found one wine to be the clear pick of the bunch - the 2001 Peters ($25). I promise you, this is a great Chardonnay. Our third favorite was a South African wine, the 2002 Graham Beck, which at $9 is a great bottle. And the cheapest wine of the bunch, the 1997 Chateau Woltner ($5), finished a respectable sixth, ahead of the expensive "benchmark", the 2000 Kistler ($50).
Here are the results, your mileage may vary:
2001 Peters Family, Napa Valley ($25)
Rich and smooth, with a wonderful nose and long vanilla finish. What can I say, this was a great Chardonnay. Yum!
1999 Thunder Mountain, Napa Valley ($20)
Lighter than the Peters, but very sound. Nicely balanced with full body. Shirley thought it would be better with food than by itself.
2000 Graham Beck, South Africa ($9)
A delightful surprise, nice and smooth, with full rich flavor. Kind of an exotic finish. It is always fun to find an inexpensive wine from "somewhere else" which is such a delight.
2000 Gary Farrel, Alexander Valley ($25)
A rich buttery chard, maybe a little unbalanced. Great nose. Gary Farrel is pretty reliable, and this was really nice. Plus, they have beautiful labels.
2001 Muir Hanna Estate, Napa Valley ($20)
Austere and complex, a little dry, but overall nicely balanced. Nice nose with a slightly bitter finish. This grew on me, I rated it higher on each pass. Maybe needed more time to air out...
1997 Chateau Woltner, Napa Valley ($5)
A lighter wine, clean and smooth and dry. Not rich enough to stand up to food, but a nice "sitting around and drinking" wine. And at this price, get a few cases!
2000 Kistler Les Noisetiers, Napa Valley ($50)
Probably not ready, seemed unbalanced and dull. Not much nose and slightly bitter finish. I'm a big fan of Kistler, this was a disappointment. Might be better later but so what.
2000 Muir Hanna Estate, Napa Valley ($20)
Thin and grassy, too much citrus. Lemon nose, weak finish. Way worse than the '01, not even remotely the same.
2001 Forman, Napa Valley ($30)
Just completely disappointing, thin, acidy, and unbalanced. Bitter finish. I picked Forman to win based on past history, but so be it. That's why you taste.
If you want to try this at home, here's how you do it. Person A uncorks the bottles, and wraps them in foil. Each bottle is given a letter (via a little sticky note), and Person A writes down the names of the wines and their letters. Next fold the paper so only the letters are visible. Then Person B removes the letter labels and at random assigns each bottle a number (via a little sticky note), writing each bottle's number next to the letter it replaced. Now you taste, and each person makes notes on the bottles by their numbers. Neither person knows which bottle goes with which number.
Some people like to compare notes as they compare wines. Shirley and I typically each make a pass without sharing our thoughts with each other, then make a second pass comparing notes.
Remember to have crackers, bland cheese, bread, and water handy for "cleansing the palate". Each person needs several glasses for comparison purposes. And remember you don't have to drink a lot! You can taste wines without swallowing... Of course you can, if you want to. Somehow our favorite, the 2001 Peters, was nearly gone by the time we were done.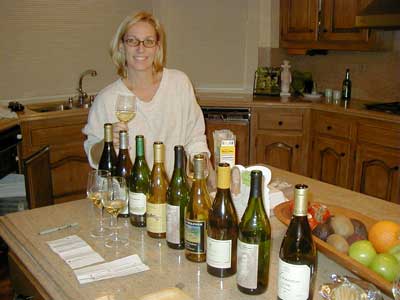 Tasting Chardonnay, the unveiling...
Yeah, it's hard work, but somebody has to do it :)