WSJ has a nice op-ed for Thanksgiving: Our Soldiers, Our Thanks. I agree with the sentiment 100%. I remember reading somewhere (I can't remember where!) that the U.S. makes lousy teenagers, but great young men and women. That's for sure.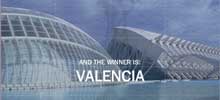 To the surprise of nobody, Valencia, Spain, has been selected as the next venue for the America's Cup (in 2007). Olé!
Newsweek has the first review of LOTR III. It is really positive, I can't wait (December 17th is the release date). "The Return Of The King is a sure contender for best picture. More than that, it could be the first franchise ever that didn't, at the end of the day, let audiences down--either because of laziness, pretension, greed or other phantom menaces. This is an especially poignant possibility at a time when we can all still smell the smoke from the wreckage of The Matrix." Oh, and if you're a LOTR fan, you might enjoy this interview with Peter Jackson about LOTR gaffes.
Scoble posted an interesting rant about retail sales of computers. "The retail industry seems to be giving up the fight. Everything inside the store screamed 'we know you're gonna buy a Dell anyway.'" This seems very true of most stores - certainly Best Buy, which Robert is primarily writing about, and Circuit City. I think CompUSA hasn't quite given up, and Fry's hasn't. And of course Apple and Gateway have their own stores. On the whole I think a better buying experience would be in every manufacturer's best interest, but it is expensive. Home entertainment manufacturers have pretty much given up, except at the extreme high end.

The connected PDA notes audible.com now supports the Treo 600. Now you can listen to books on your phone! [ via Ottmar Liebert ]
Here's an interesting technical article complaining about recent changes at Google which have apparently caused many sites' ratings to drop. Of course the target audience for the "Search Engine Guide" is sites who are trying to [falsely] boost their ratings. Personally I've noticed an increase in Google-search traffic to my blog lately, but I'm not doing anything to cause it. Maybe that's the secret!