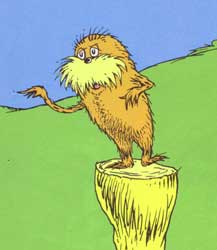 I am the Lorax
I speak for the trees.
I speak for the trees, for the trees have no tongues.
The Lorax has been each one of my kids' favorite story at a certain point. Meg is six, and it has been her favorite for about two years. This amazing story by Dr. Suess (Theodore Geisel) was published in 1971, but its message rings as loud and true 32 years later. Amid Suess' usual whimsical rhymes, delightfully original creatures, and weirdly undulating illustrations is something more - a powerful ecological message. I've read it dozens, maybe even hundreds of times, but each time I find my voice more emotional than usual, and I always pause when I reach that sickening smack. "Then we heard the tree fall. The very last Truffula Tree of them all!"
The best thing about this story is its positive ending. Yeah, the Truffula trees were wiped out by the Once-ler, but there's still that one seed... In addition to enjoying the story for what it is, a story, I do believe my kids "get it". I hope so.
UNLESS someone like you cares a whole awful lot, nothing is going to get better.
It's not.