Paving new political ground - again - in California: Davis recall has enough signatures for ballot. Here we go...
I saw Terminator 3 tonight. Did not like. Doesn't have the energy of the previous two, really seemed like a pointless vehicle for action sequences. Linda Hamilton was missed. Pales in comparison to the Matrix Reloaded. Arnold, run for governer. Please.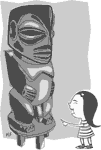 LAWeekly: Rarotonga or Bust. "It only took about five minutes to wipe out any preconceived fantasies we had about island life."
Today Tivo announced Tivo Basic, a free basic service which comes with its PVRs. You get 3 days worth of programming information, no season passes or wishlists. Seems like a good "camel's nose under the tent"; I know a lot of people who are put off by any monthly charge.
There are probably six people in the world who think this parody is funny: FOAF splinters into 10 competing efforts. I'm one of them :)
DaGoddess has the 44th Carnival of the Vanities. Looks like this week we have a hospital theme. My pick this week is Blogging Ethics, from the Accidental Jedi.