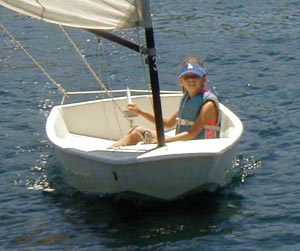 Alexis! - click for larger view
Today was a perfect day. My daughter Alex has been in a "sailing camp". Today was the end of the camp, with a million kids sailing in a relay race and a barbeque. She ended up taking three of her friends out all by herself, in gusty winds, with her proud dad standing on the dock watching.
When I was a kid I spent summers sailing, and I'm sure glad to be passing on the tradition. There is absolutely nothing half so much worth doing...