What's Up? Well...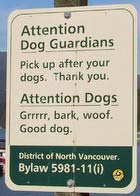 The wave of the future? Inter-species traffic signs in Vancouver. [ via Boing Boing ]
Here's a terrific quote from Dick Cavett: "If your parents never had children, chances are you won't, either." [ via techno\culture ] This reminds me of an interesting observation from Daniel Dennett's wonderful book "Darwin's Dangerous Idea". Dennett notes that every one of our ancestors, every one, had children. And not merely that, but they had children which could reproduce, and did. As did their children. Every living being has an unbroken line of successful reproducers in their ancestry. And the legacy of all that reproductive success is encapsulated in our genes.
Here's an embarrassing bug: Trend Micro announced a bug in their anti-spam software; they blocked any emails containing the letter "P". Must have been thoroughly tested code; I hate when that happens.
The Peking Duck has decided to stop blogging for a bit. Too bad, I really enjoyed his site.
Please welcome Tim Blair to my blogroll. He's an Aussie who seems to hit many nails on the head simultaneously, while retaining a dry sense of wit. Excellent blogmanship.
I've decided to take Rob Smith off. Not because he's making such a big deal out of de-linking from his blogroll (who really cares?), but because of this post and this post. Yeah, he's funny, but he's also sometimes not funny in a way that isn't even funny.