Greetings from Modesto! (don't ask)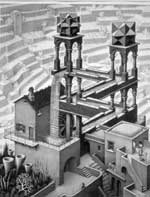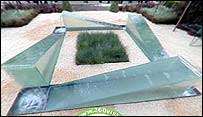 This is SO COOL! Check out this water feature, with water flowing perpetually uphill. Reminds you of an Escher print, doesn't it? The BBC tells you how it was done... I just love stuff like this. [ via Boing Boing ]
It isn't done like this, but it would be cool if it was :)
Cut on the Bias hosts this weeks' Carnival of the Vanities - straight, with biased commentary. My discovery this week is John Lemon's Barrel of Fish; check out "Money for Nothing and Your Grades for Free"!
Dan Gilmor: "Google co-founder Sergey Brin said there were no plans to segregate weblog content from the main search engine results." Well, that is pretty authoritative.
Want to know what's up with SARS? Check out these graphs. Really a great way to see the progression of the disease, broken out by country. The most significant is the "Cumulative Total" graph, fourth from the bottom. Based on this it certainly seems that the disease is being brought under control. Excellent.
On the Fritz: The SARS-spreading Sneetches. More proof, if any were required, that you can find anything on the web.