| | |
| --- | --- |
| Alinghi Wins the America's Cup! | |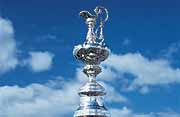 So the Swiss win the America's Cup! Congratulations to Alinghi, Russell Coutts, Brad Butterworth, and their whole team. They clearly outsailed TNZ - this is their third straight Cup win, including the successful 1995 challenge in San Diego which brought the Cup to New Zealand, their 2000 defense against the Italian Prada challenge, and now having switched nationalities (!), the successful challenge for Switzerland. In those three series they won 15 races straight. Whew!
America's Cup race 5: the start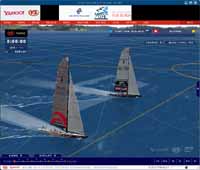 This race was decided right at the start - the Virtual Spectator screen shot at right shows the positions at the gun (click for bigger pic). Alinghi is on the line going to weather at full speed, with access to the favored right side, while TNZ is a ½ boatlength off the line, not on point, not at speed, and trapped to the left. Coutts took 5 starts out of 5 from Dean Barker, and not surprisingly won all 5 races. I can't understand why TNZ wasn't more aggressive in the starting sequence - this was do or die for them! Much may be made of TNZ's breakdowns during the regatta - they had to retire from two races, and broke a spinnaker pole in this one - but in each case they were already trailing decisively. TNZ was basically outsailed. I don't think Alinghi made any tactical errors in any of the races, and their tacks, sets, and jibes were flawless. Come to think of it they only lost 3 races all summer, all through the Louis Vuitton series to determine the challenger.
Alinghi extended their lead from the start on the first beat, defended down the second leg, and applied loose cover on the second beat to open up slightly. The boats are basically equal to weather, with Alinghi pointing higher but TNZ footing faster. On the second run TNZ tried an asymmetrical chute but it backfired, and they lost ground because Alinghi was able to sail lower. (I guess they had to try something!) On the final beat I expected a wild tacking duel - TNZ had nothing to lose - but they seemed resigned to their fate, and meekly followed the Swiss up the course. The final run was a parade, ending in a 41 second horizon job.
It will be interesting to see where and when the Societe Nautique de Geneve will host their defense. The Golden Gate Yacht Club and Larry Ellison have already submitted a formal entry to become the "challenger of record". It is expected that Ellison and Alinghi syndicate head Ernesto Bertarelli will make several changes to the Cup protocol for the next regatta, including running the challenger series under the same rules as the finals.