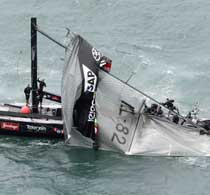 Well, this is what it looks like when things go bad. TNZ dismasted in the middle of the second beat of today's America's Cup race, and now Alinghi are up 4-0 in the best of nine. Not looking good for the Kiwis...
I have to say they were going to lose this race anyway. They lost the start, for the fourth race in a row (doesn't look like Bertrand Pace helped them), fell behind on the first beat, and Alinghi was pulling away when the rig fell over. The boats have equal speed - at times TNZ even seems to have the edge - but Coutts and Butterworth are outsailing Barker and his team. They get the first shift to weather every time, and their tactics downwind are flawless.

TNZ has a long night ahead of them replacing the rig, then they face elimination in race 5 tomorrow.
Remember the "do you think we're rushing to war" list? This cartoon summarizes nicely! If you're still wondering why we're going to war, Steven Den Beste clarifies Not Why We're Doing It.
Larry Lessig explains why U.S. software developers are choking on patents.
Goodbye, Mr. Rogers.