New WTC design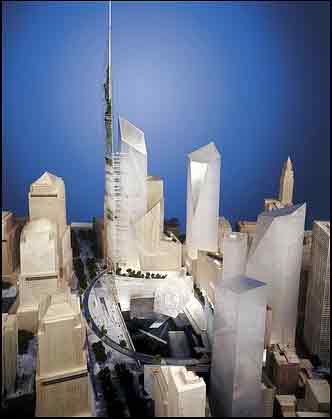 The New York Port Authority has choosen the design at right to be constructed on the WTC site. It features a 1,776ft. spire and will be the tallest building in the world.

John Howard, Prime Minister of Australia, explains why You Can't 'Contain' Saddam. Meanwhile an anonymous Iraqi expat ponders If Antiwar Protesters Succeed.

Wondering what to do with the duct tape you've bought to seal your windows?

This guys needs a life. He's devoted five months to getting Apple to make their G4 desktops quieter.

How about a cell 'phone, Neo?

Here's yet another reason why CD sales are off...

Update on my switch to Mozilla - so far, so good. I haven't come across any pages which didn't render correctly. I do believe IE is faster - perhaps just loading a new window, but I open a new window on every link, so that matters - however Mozilla isn't that much slower. I have disabled tabbed browing for two reasons, first, it is unstable with a lot of concurrent loads, and second, I kept forgetting I had a bunch of tabs and closed the window! I'm using a 1600x1200 screen so I have plenty of real estate for browser windows, so it just doesn't buy me anything. (I could see it would be helpful at 1024x768, but that's not me.) Anyway, so far, so good. If you haven't tried Mozilla you might want to, it is not your father's Netscape browser. It does kill pop-up windows, and it gives you really good control over cookies.

Finally, check out this headline: Hong Kong Moves to Raise Birth Rate and Draw Richer Immigrants. Can you imagine the fuss if this was suggested in the U.S.?!