Race 2 of the 2003 America's Cup is in the books, with Alinghi barely winning to take a 2-0 lead. Terrific racing!
Pic 1: race 2 leg 5: tacking duel!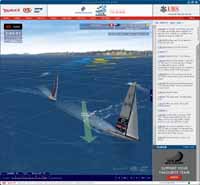 Pic 2: race 2 leg 6: rolled over!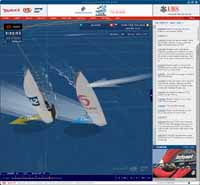 Pic 3: race 2 leg 6: tight blanket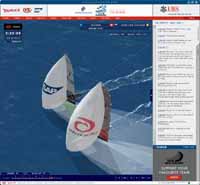 Pic 4: race 2: finish!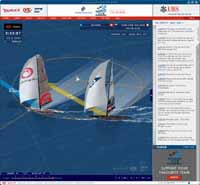 After an even start and close 1st weather leg which gave Alinghi a tiny lead at the first weather mark, TNZ blew by on the first run to lead by 30 sec at the leeward mark. A nice tacking duel on the second weather leg allowed Alinghi to close to 20 sec. Alinghi closed still more on the second download by sailing lower. The third weather leg featured a terrific 33-tack duel, in which TNZ extended slightly by protecting the favored left (pic 1). Alinghi covered TNZ like a blanket on the next run, finally driving over the top (pic 2 - I love the way they model the wind shadows). TNZ jibed back over and sat on Alinghi all the way to the finish (pic 3), but Alinghi held on to win by 7 seconds (pic 4). Awesome racing. Man.
Again I recommend Virtual Spectator to anyone with an interest in sailing or 3D software. You can actually see more than you would watching TV; any camera angle is available, and you get realtime telemetry from both boats. And they have something which would make Tivo even cooler - the ability to watch faster than realtime.