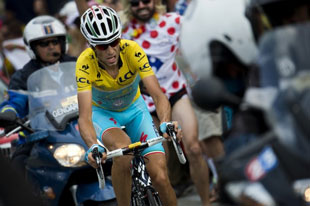 In the final decisive road stage of the 2014 Tour, Vincenzo Nibali triumphed up the final HC climb of Hautecam and confirmed his dominance of this year's Tour. Barring a disaster in Saturday's time trial, he will wear the yellow jersey in Paris. And at this point who could deny him; the way he's ridden this tour, he might well have won even if Chris Froome and Alberto Contador were still riding.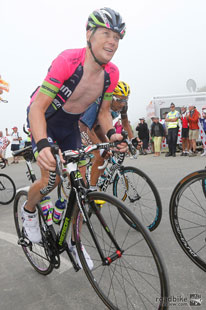 It was a great race all the way up the last climb; if you've ever wanted to watch a truly great race up a truly tough mountain, this would be a good one to go back and watch. I enjoyed every minute of it, especially 42-year-old Chris Horner's late attack on the GC leaders, which was glorious despite ultimately failing. Rafael Majka had a great ride too, as did Tejay Van Garderen and JC Peraud. Unfortunately Alejandro Valverde faltered in the final battle and now sits fourth, with some serious work to do in the time trial to get back on the podium. And it was a great race for France, as there were no fewer than three French riders battling and left with a chance at the podium.
Tomorrow is a flat sprinters stage - the last chance for a breakaway, so could be interesting - and then Saturday is the long time trial before Sunday's parade into Paris. Onward.