Archive: July 5, 2014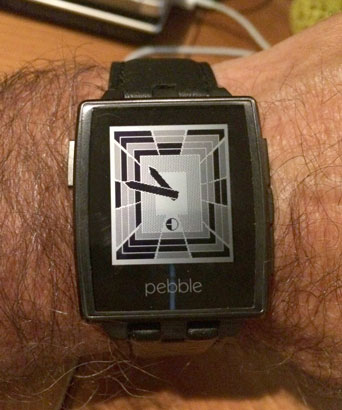 Pebble Steel first impressions:
Nice looking but is not going to replace my Hublot or Cartier anytime soon. Kind of wish I didn't go for slate and went for a fun color since it isn't exactly a dress watch.
Kind of biggish feeling
Leather and steel bands are a nice touch
Installation was a breeze. Downloaded and installed iPhone app and it did all the work.
From within the iPhone app you find Pebble apps, and "faces". I've experimented with a few faces like this one. Some add data like the weather.
Buttons are a little too firm, hard to click easily. Left button is "back", Right has three buttons: "up", "select", and "down". That's the entire interface.
Charging is trivial, USB cable attaches to watch with a magnet
Screen seems a little dim. Shaking watch turns on backlight but only briefly.
Simple to setup and use, a good thing. Not too many options.
Echos text messages. Does not do Emoji though which is crummy.
Shows when phone is ringing and allows you to answer or ignore
Shows calendar alerts and slows you to sleep or dismiss them
Rings when alarm goes off and allows you to snooze or dismiss
There are a bunch of Apps available, more for Android than IOS. Most of them coordinate a function between the watch and the phone.
Apps sync easily and settings are easy to maintain. I installed "PebbleBucks" which is a readout of your Starbucks account (can't do anything, but you can display a payment barcode; will try it next time I'm at Starbucks).
Some Pebble apps require a symbiotic phone app to be running. For example you can download an app which controls your phone's camera (take picture, etc) but it requires the app to be running on the phone. This is considerably less convenient of course because by the time you've run the app on your phone you might as well just use the phone.
A cool app called Slides lets you remote control a slide display running on your phone. I haven't gotten it working but that would be useful (as opposed to merely cool).
Stay tuned for more!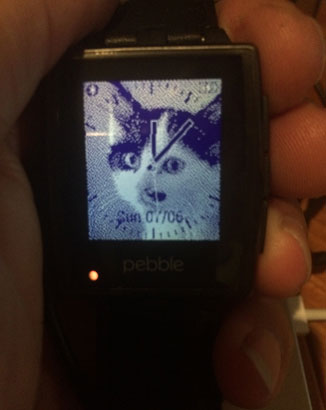 PS most important development so far – I've created a custom face, using my cat Fluffy as a model :)
Tour de France 2011
This post is a compendium of all my Tour de France 2014 posts...
| | |
| --- | --- |
| Le Route of Le Tour, 2014 | |
The organizers of Le Tour have once again setup an amazing website chock full of information; among other things, nice maps of the route and all the stages, along with detailed elevations of each stage. Check it out and keep it handy for your second screen as you watch the racing!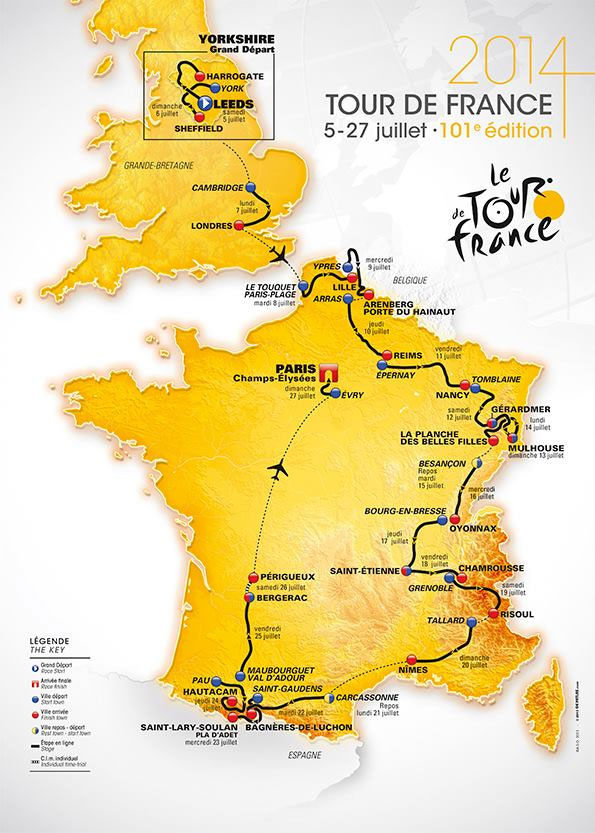 | | |
| --- | --- |
| Le Tour 2014, stage 1: Jens breaks away, Fabian attacks, Kittel wins, Cavendish crashes | |
Le Tour 2014 is officially under way, after a most Grand Depart in Leeds; stage 1 was a meandering tour of Yorkshire, in the North of the UK, with just enough little climbs and big rollers to keep things interesting. The weather was perfect and the crowds were huge and enthusiastic, a great start to what should be a great tour.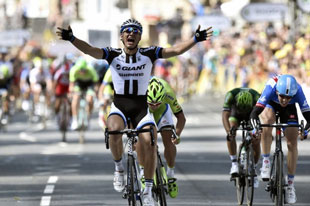 Jens Voight was part of the initial break and finally attacked out of it to lead most of the way and gather enough points to be initial leader of the King of the Mountains, yay, Jens! And just as the peleton regrouped for a final sprint, Fabian Cancellara attacked and nearly won. But he didn't, and Marcel Kittel did (just like last year), after Mark Cavendish crashed in the runup to the finish (just like last year). Peter Sagan took second and staked his claim to the green jersey.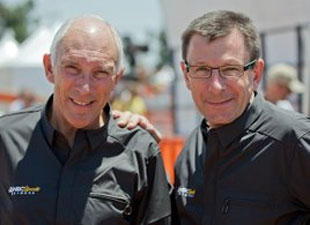 Along with welcoming back a great spectacle and competition, it was so nice to hear Phil (Liggett) and Paul (Sherwin) back in action. Todd Harris is fine as MC, Bob Roll is pleasant and insightful, and this year we have Christian Vandenberg, who isn't quite as polished but makes interesting observations. And I love having Steve Porino out there in the middle of the peleton on a bike; he seems to know all the Directors Sportif intimitely, and brings great in-race insights.
Tomorrow brings another lumpy stage with narrow roads and nine categorized climbs, could be a day for a break!
| | |
| --- | --- |
| Le Tour 2014, stage 2: tough day in the hills of Yorkshire; Nibali wins late against GC rivals | |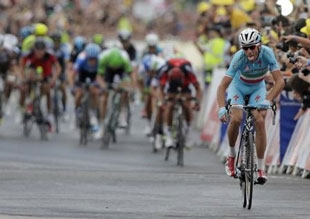 Excellent stage today in Le Tour; six solid hours of racing up and down, with nine categorized climbs and several others too, narrow roads, massive crowds, and great riding. It was capped by the GC contenders battling on a 25% hill three miles from the finish, with Chris Froome, Alberto Contador, Alejandro Valverde, and Rui Costa all in the mix, together with the all-around amazing Peter Sagan, but they all watched Vincenzo Nibali attack with 1 mile to go and couldn't bring him back. He only took two seconds in the end but it was a great victory for him and puts him in yellow.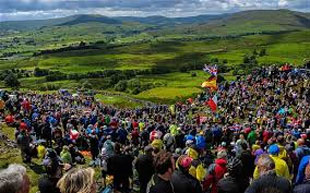 In addition to the beautiful Yorkshire countryside, the star of today's stage were the people; I've been watching bike racing for many years but have never seen such crowds. Even the small hills in the middle of nowhere had thousands of cheering fans crowding the road. Excellent.
Stage 3 is a flat and crispy parade into London, which should culminate in a bunch sprint; too bad Mark Cavendish' crash yesterday forced him to abandon. I guess it will be Kittel vs Greipel and everyone else can rest up. Onward!
| | |
| --- | --- |
| Le Tour 2014, stage 3: sprint into downtown London, Kittel triumphs again | |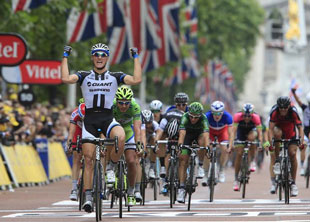 Ho hum; today's Tour de France stage was parade from Cambridge into download London, where Marcel Kittel finished off the field easily in a bunch sprint. The GC was unchanged, and on we go into France. There were huge crowds in England lining the road nearly the entire way - again! - but they didn't have much of a race to watch today.
Tomorrow the field crosses the channel into France for another flat stage, a warmup before the Paris-Roubaix-like cobbles of stage 5. Stay tuned...
| | |
| --- | --- |
| Le Tour 2014, stage 4: yet another sprint to Kittel | |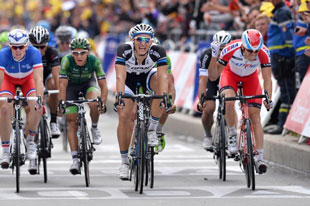 After a smashing start the 2014 Tour has settled into a (yawn) pattern; the field ride for several hours, millions of people cheer them on, and then Marcel Kittel outsprints everyone else for a win. It's happened three times now in four stages, and it's getting just a bit old. Today was a bit closer than yesterday but the result was the same. It does not make for gripping spectation.
Tomorrow will be different however (!), we have a flat stage featuring nine cobbled sections of pave, duplicating a substantial section of the famous Paris-Roubaix race. The GC contenders will all be trying to finish intact while the classics' specialists like Fabian Cancellara try to pull off a win. In fact, with most of the field just two seconds behind current yellow jersey wearer Vincenzo Nibbali, there's a great chance for someone to take the overall lead, at least for a day. That should make for a great race. Onward!
| | |
| --- | --- |
| Le Tour 2014, stage 5: wet cobbles! = first selection, Froome out, Nibali extends lead | |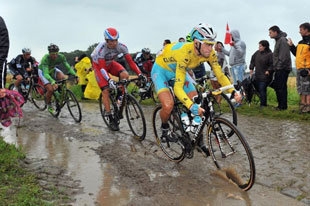 Yesterday I complained about how the Tour was settling into a pattern, and today's stage everything changed. A wild, wet, and tumultuous stage over nine sections of cobblestones created this year's first real selection, with Chris Froome crashing out, Vincenzo Nibali extending his lead in yellow, and most of the GC contenders happy they made it to the finish in one piece. Lars Boom won the stage - which was like a mini Paris-Roubaix - in convincing fashion, and Jacob Fulsong finished just ahead of his teammate Nibali in second, putting him in second overall as well. Peter Sagan was a close fourth, extending his lead in the green jersey points competition and landing him third overall in GC.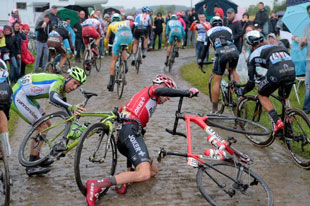 Besides Froome, who sadly crashed twice before he even reached the cobbles and couldn't continue, the day's big loser was Alberto Contador, who rode well but ended up conceding nearly three minutes to Nibali, and over 30 seconds to Andrew Talansky, who is looking more and more like a genuine podium contender every day. We now have to ask ourselves, can Niabli win? We'll have to wait for the mountain stages in the alps to find out.
(Who knows... maybe Albert Contador dominates the mountains and wins the Tour, and we end up looking back at this stage as the biggest reason, as it removed Chris Froome from the picture.)
Update: There has been a lot of discussion about whether cobblestones belong in the Tour. Without commenting on that, I just want to point out that Chris Froome crashed out *before* ever riding on cobbles. It was a wet stage on narrow roads, but I don't think anyone is suggesting that the Tour stop riding in rain, or on back lanes in France. Net net it is too bad that Froome is no longer in the race, but that's cycling...
Tomorrow is another flat stage, and most likely another sprint finish. We'll see most of the peleton recovering and taking it easy, but will anyone be able to beat Kittel? Andre Greipel, call your office.
| | |
| --- | --- |
| Le Tour 2014, stage 6: Greipel outsprints the field in the rain | |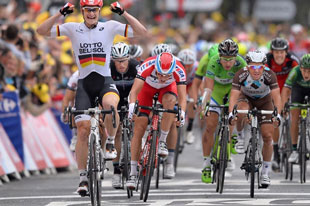 After yesterday's wet and wild stage over the Paris-Roubaix cobbles, today shaped up to be a rather boring parade ending in a field sprint, and so it was. Most of the field licked their wounds all day, but there were a few more crashes adding injury to injury. The expected field sprint did materialize, but this time Andre Greipel triumphed, as Marcel Kittel sat this one out.
Tomorrow is another flat stage, but there are a couple of climbs at the end, so it may be a day for a breakaway to succeed, or more likely a chance for Peter Sagan or Alejandro Valverde.
| | |
| --- | --- |
| Le Tour 2014, stage 7: Trentin nips Sagan in the final bumps; more crashes cost more time | |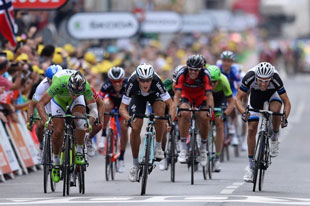 Looking at today's Tour 2014 stage 7 profile, you couldn't be sure whether the field would survive to the end for a bunch sprint, a breakaway would stay clear, or it would be a sprint among the survivors. And the latter came to pass, as Matteo Trentin barely nipped Peter Sagan in a sprint finish after the pure sprinters were dropped on the late climbs. There was more rain and more crashes, too; Tejay Van Garderen lost over a minute due to an unfortunte crash, exacerbated by his teammate Greg Van Avermaet's late attack. Andrew Talansky also crashed right in the sprint, losing skin but no time.
Stage 8 tomorrow will be interesting; the first "real" climbs of the tour, right at the end of an otherwise flat stage, and more rain in the forecast. On paper it looks to be a perfect opportunity for a breakaway to survive as a tired and sore peleton take the day off. There will likely be a GC battle for time on the final climb which is short but steep. Stay tuned!
| | |
| --- | --- |
| Le Tour 2014, stage 8: Kadri survives from break, Contador and Nibali assert themselves | |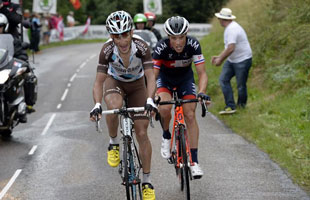 Today's stage 8 of Le Tour was predictably boring for the first three hours (ho hum, a five man break pulls 10 minutes on a disinterested and resting peleton in quiet sunshine), and then predictably exciting for the last one (a breakaway survivor wins and a GC battle errupts on the final climb in pouring rain). And so it goes. Congratulations to Blel Kadri (call him "Joe" :) who attacked his breakaway companions as the climbs started near the end and won convincingly, taking the lead in the climbers' polka dot jersey competition as well.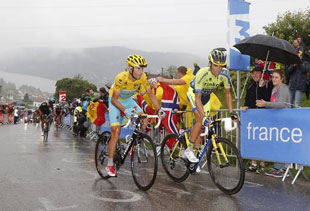 Meanwhile back in the peleton Alberto Contador's Saxo teammates cranked up the pressure and decanted the field on the first climb, leaving a select group of about 20 riders to content the final short (1 miles) but steep (10%+) climb to the finish. At that point Contador attacked, but he couldn't shake yellow-jersey-wearer Vincenzo Nibali, who was content to follow and not lose any time. Richie Porte was right there too, good for him as he assumes leadershop of the Sky team from defending champion Chris Froome who crashed out in stage 5. Meanwhile the other contenders all fell back a bit, as the Tour saw a main selection that establishes the leaderboard going into the second week. Nibali's teammate Jakob Fulsang lost time but is still in second (1:44), Porte moved up to to third (1:58), Michal Kwiatkowski lost time but is now fourth (2:26), Alejandro Valverde also lost time but also moved up, to fifth (2:27), and Contador sits sixth (2:34). Other would-be contenders include Rui Costa (8th, 2:52), Bauke Mollema (9th, 3:02), Tejay Van Garderen (12th, 3:34), and Andrew Talansky (16th, 4:42), who was the victim of a poorly timed crash just before the final climb.
Tomorrow will be more of the same: not high mountains, exactly, but six categorized climbs. They don't come at the end, so perhaps we will see another breakaway and another victorious survivor. Of note, Peter Sagan finally lost time today (18:17), after being up among the leaders in every stage so far, so he might be allowed to escape for a win.
[ Le Tour 2014: all posts | index ]
| | |
| --- | --- |
| Le Tour 2014, stage 9: Tony Martin powers to win, as Tony Gallopin moves into yellow | |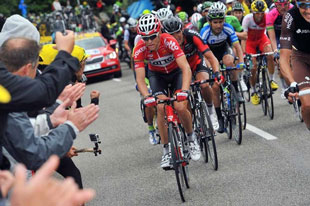 Stage 9 of the 2014 Tour was one of those interesting transition stages; plenty of climbs, but nothing too brutal, and the last coming some considerable way from the finish. With a harder mountain stage tomorrow and a finish on a climb, and a rest day the day after, the GC contenders were content to take a rest, and Vincenzo Nibali and his Astana teammates were happy to see a break of 28 riders take off. Tony Gallopin was the highest placed in that group, and ended up in yellow, relieving Astana of any burden tomorrow without conceding any time to the true contenders.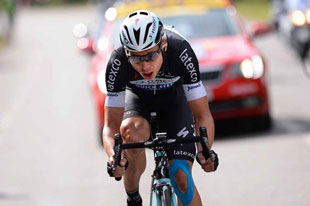 Meanwhile Tony Martin basted out early, a man on a mission, and powered to victory; even that huge break could not nail him back. I just watched him nearly win the Tour de Suisse; boy can he burn the watts. Just doesn't quite have the power to weight ratio you need to triumph in the mountains.
As noted tomorrow's stage is going to be tough; nine catagorized climbs included four Cat 1s and a finish at the top of the last one. I predict serious fireworks as Alberto Contador tries to get some time back from Nibali, and Richi Porte, Andrew Talanski, etc will battle it out in a major selection for the overall. Stay tuned!
| | |
| --- | --- |
| Le Tour 2014, stage 10: Contador crashes out as Nibali takes the queen stage and regains yellow | |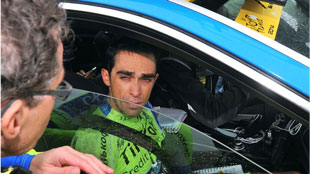 Aw, man! First Chris Froome and now Alberto Contador have crashed out of the 2014 Tour, leaving Vincenzo Nibali as the last favorite standing. Stage 10 was always going to be one of the toughest in the whole tour, with seven categorized climbs and two Cat 1s near the end, but add serious rainstorms and a lot of competition going into the rest day tomorrow, and it was wild. Joaquim Rodriguez animated the early break, taking all the climbs in successful pursuit of the climbers polka dot jersey, but sadly Alberto Contador hit a pothole while descending in the rain and broke his leg, ending his tour.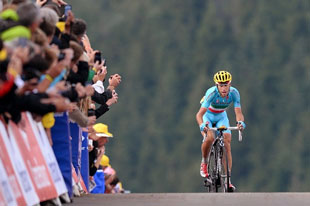 Nibali saved his firepower for the last climb and powered up the final stretch of 20% to take the stage and reclaim the jersey. At this point he's the overwhelming favorite to keep it all the way to Paris. That same climb reordered the general classification; Richie Porte now sits second (2:23), and Alejandro Valverde third (2:47). Other would-be contenders include Tejay Van Garderen, moving up to seventh (3:56) after a good day, and world champion Rui Costa now in ninth (3:58).
Tomorrow is the tour's first rest day and boy is the peleton ready for it. I'll try to to a little photo essay. And Wednesday's stage 11 is one of those bumpy stages which are tough to predict; four smaller catagorized climbs in the last 40K might let a breakaway escape, or a strongman like Peter Sagan triumph. We'll see...
| | |
| --- | --- |
| Le Tour 2014, rest day 1: pics and thoughts | |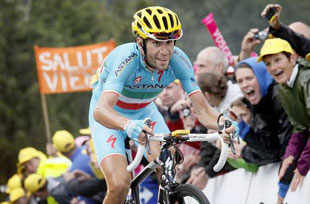 We've [finally!] reached Le Tour 2014's first rest day, and what's left of the Peloton must be quite grateful. In sheer numbers this tour hasn't necessarily been more brutal than others, but seeing so many top riders like Mark Cavendish, Andy Schleck, Chris Froome, and Alberto Contador crash out has been amazing. It leaves the field clear for Vincenzo Nibali to win - doesn't look like anyone is going to challenge him (assuming he makes it!) - but it also clears the field for a bunch of contenders to finish on the podium. And most of the big climbs still lie ahead. Should be great.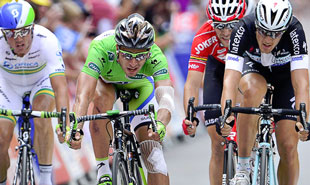 Other interesting subplots include Peter Sagan - he's got the green points jersey pretty well locked up, but will he win a stage? And Roman Bardet and Thibaut Pinot compete for the white best young rider jersey, as well as top Frenchman and possibly first Frenchman to be on the podium for many years. And Joaquim Rodriquez' pursuit of the polka dot climbers jersey.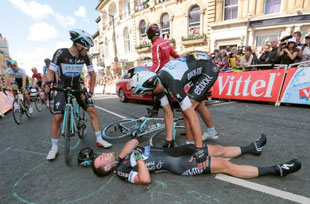 Mark Cavendish crashes out in stage 1 ... did not win any stages this year, leaving the sprints for Marcel Kittel and Andre Greipel.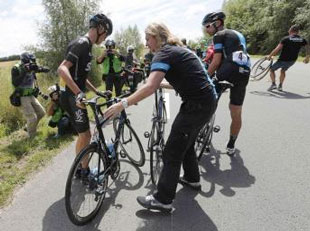 Chris Froome crashes out in stage 5 ... didn't even make it to the cobbles.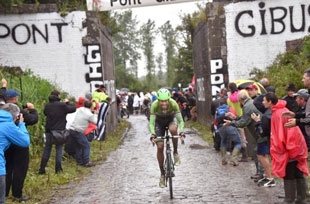 Lars Boom wins stage 5, an iconic Paris-Roubaix stage in the rain over cobbles.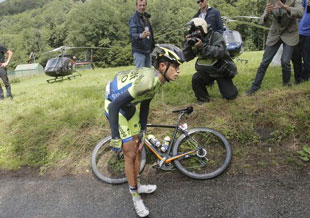 Alberto Contador crashes out in stage 10 ... didn't even make it to the high mountains.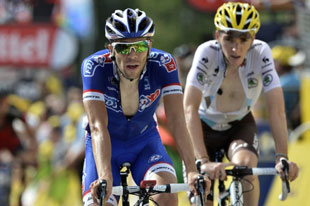 Thibaut Pinot and Roman Bardet battle for the white best young rider jersey, and best Frenchman, and the podium!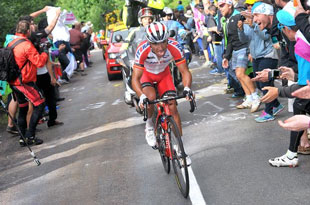 Joaquim Rodriquez looking good for the polka dot climbers' jersey.
Cheers ... the Tour resumes tomorrow, with two lumpy stages which might see breakaways get clear, and then later in the week two serious mountain stages in the Alps.
| | |
| --- | --- |
| Le Tour 2014, stage 11: Gallopin nips Sagan on a lumpy day; Talansky survives | |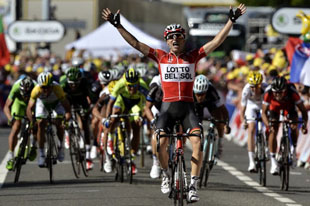 Stage 11 of Le Tour 2014 was a lumpy ride along the Franco-Swiss border, with four minor climbs near the end. Everyone figured it would be a stage for Peter Sagan, and it was, but Tony Gallopin powered out from a late break to win by a whisker, leaving Sagan frustrated again.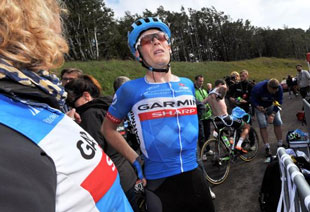 The GC was largely unchanged, but a big story of the day was Andrew Talansky's desperate battle to finish inside the time limit, still suffering badly from a series of crashes. He barely made it - yay! - and was cheered across the line by a crowd which waited over 30 minutes after the leaders had finished to cheer him on - yay! - but whether he'll be able to continue is doubtful. And his GC hopes have been dashed entirely.
Tomorrow's stage 12 will be a bit more of the same: more lumps, four more climbs, and another chance for Sagan. Stay tuned!
| | |
| --- | --- |
| Le Tour 2014, stage 12: Kristoff nips Sagan on another lumpy day; GC unchanged | |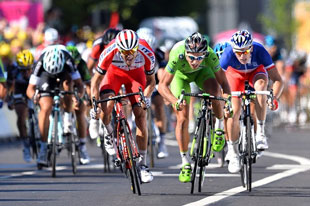 Another lumpy day, another chance for Peter Sagan to win a stage, and another disappointment for him as Alexander Kristoff barely beat him to the line in the final sprint. Behind them a tired peleton continued to recover with the GC unchanged. It might have been the least eventful day so far in what has been a most eventful tour, marking the overall halfway point.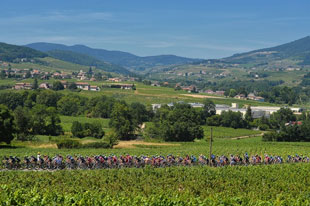 And it gets more interesting from here, as we have the first real mountain stage in the Alps tomorrow, ending with an HC climb to the finish. Yippee.
[ Le Tour 2014: all posts | index ]
| | |
| --- | --- |
| Le Tour 2014, stage 13: Nibali wins on HC final climb, solidifies hold on yellow | |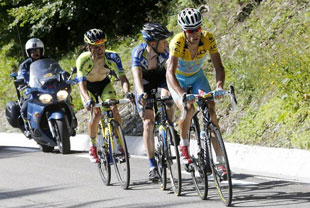 Stage 13 of Le Tour 2014 was the first "real" mountain stage, with a Cat 1 hors d'oeuvre 40K out and a 20K HC final climb to the finish. It promised some interesting GC dynamics, a decanting of the contenders to determine who was really in to finish on the podium, and it did not disappoint. When the dust settled Vincenzo Nibali won the stage and solidified his hold on the yellow jersey, overtaking attackers Leopold Konig and Rafal Majka on the final ramps to the finish. Alejandro Valverde ended up second (3:37) with best young rider Romain Bardet in third (4:24). Thibaut Pinot and Tejay Van Garderen now round out the top five.
| | |
| --- | --- |
| Le Tour 2014, stage 14: Majka triumphs, GC solidifies | |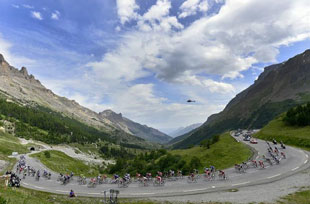 Today's second Alpine stage of the 2014 Tour de France provided more climbing fireworks. Rafal Majka survived three tremendous climbs from a seventeen-man break to win, after finishing second yesterday. He is giving team Tinkoff-Saxo something to celebrate after losing leader Alberto Contador back in stage 10. Vincenzo Nibali added to his overall lead by finishing second, and the rest of the GC compacted and solidified... Alejandro Valverde is still second (now at 4:37), Romain Bardet is till third (4:50), also in yellow, and also the top French rider, Thibaut Pinot is still fourth (5:06), and Tejay Van Garderen is still fifth (5:49) after another strong ride in the mountains.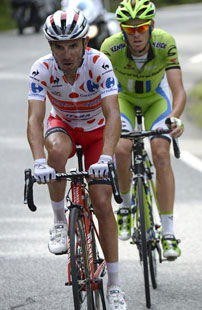 Meanwhile Joaquim Rodriguez recaptured the climber's polka dot jersey by taking all the early climb points (including leading across the top of the Col d'Izouard, and claiming the prize for the first rider over the highest point of the tour). He is now tied with Majka, and that might be an interesting competition when the Tour reaches the Pyrenees. Another interesting competition is the best young rider, between Bardet and Pinot, who are also battling for a podium spot and ... best Frenchman!
Tomorrow is a long transition stage (aka, watch out for Marcel Kittel and Andre Greipel), and Monday is the Tour's second rest day. After that ... the Pyrenees for three days! Stay tuned.
| | |
| --- | --- |
| Le Tour 2014, stage 15: Kristoff wins transition stage as break caught with 20m to go | |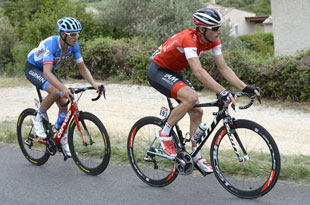 Argh! These transition stages can be nail-biters; today on Le Tour featured a long flat run through Provence, with a dead flat sprint into Nimes. A stage for Marcel Kittel or Andre Griepel for sure, right? But then a two-man break nearly ... nearly! ... got away, as the peloton's chase was slowed by rain and roundabouts. Jack Bauer and Martin Elminger rode hard all day and at first it seemed they would surely be caught, and then it seemed they would make it to the finish! But heartbreakingly they were caught, with 20m to go... and Alexender Kristoff led the field sprint across the line. Whew.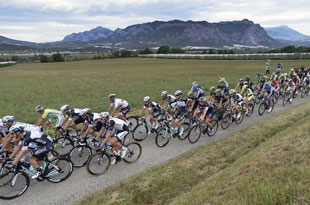 Tomorrow is the tour's second rest day, and then Tuesday the race resumes with three stages in the Pyrenees!
| | |
| --- | --- |
| Le Tour 2014, rest day 2: movie + thoughts | |
The Tour de France 2014 rests again today. Left are three mountain stages in the Pyrenees, a transition stage, and a time trial left before Sunday's parade / sprint to Paris.
It seems like Vincenzo Nibali is a lock to win. But the rest of the podium and top ten is up for grabs, should make for some exciting racing. Peter Sagan has the green jersey sewn up. But the polka dot jersey competition is tight (tied!) between Joaquim Rodriquez and Rafal Majka, and the white jersey is up for grabs between Romain Bardet and Thibaut Pinot, who are also battling for top French rider and ... perhaps most importantly ... fighting to be the first Frenchman on the podium since Ricard Virenque in 1997. Add to that Tejay Van Garderen sitting in fifth, and riding stronger every day, and Bauke Mollema lurking in seventh, and Rui Costa ... well there's a lot of racing left. (Update: Rui has dropped out due to pnemonia! Rats)
It already seems a long time ago but remember stage 5, which retraced the Paris-Roubaoix route over the cobbles in the rain? Want to see it again, from the handlebars of a rider? Check this out:
Wow. And Onward!
| | |
| --- | --- |
| Le Tour 2014, stage 16: Rodgers attacks downhill, GC shuffled | |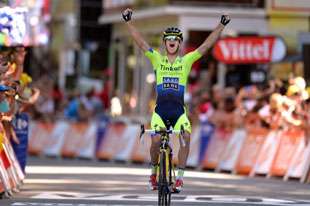 Well you never know what's going to happen after a rest day in the Tour. Today seemed like there might be a breakaway which could get away; the longest stage of this year's Tour, with the HC Port de Bales climb 21km from the finish. And indeed a huge group of 21 riders broke off early before basting apart on that final climb. Michael Rodgers went over the top first with Thomas Voelker and a small group of others, and they battled on the long downhill with Rodgers emerging victorious. A great race.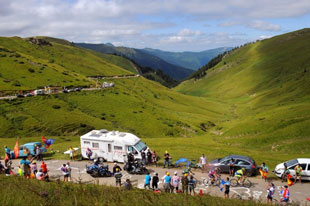 And meanwhile another battle played out among the GC contenders; Vincenzo Nibali made it safely up and over, along with Alejandro Valverde and the French trip of JC Peraud, Thibot Pinot, and white jersey wearer Romain Bardet, but Tejay Van Garderen struggled and lost serious time, as did Chris Horner. (I was hoping Horner would fly without having to protect Rui Costa any longer, but looks like he's still recovering from that horrible training crash a couple of months ago.)
Tomorrow is the hardest stage of the tour, bar none; three serious Cat 1 climbs followed by an HC mountaintop finish at Pla d'Adet. I can't wait!
| | |
| --- | --- |
| Le Tour 2014, stage 17: Majka triumphs, confirms polkadots | |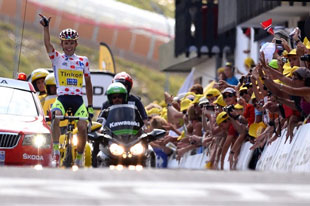 In the hardest stage of this year's tour, Rafael Majka triumphed on the final mountain climb up to Pla d'Adet, giving Team Tinkoff Saxo their third stage win and confirming his right to wear the polka dot jersey of the King of the Mountains. Any one of the climbs in this stage could have been decisive, but having four serious climbs in a row certainly created a selection. And it was fun to watch, too. Behind the leaders the GC contenders battled but ultimately the times were little changed, except that Romain Bardet faltered a little and ceded time and the white best young rider jersey to Thibout Pinot.
Tomorrow's stage 18 is yet another tough Pyrenees stage, with two HC climbs: up the Col du Tourmalet and another serious mountaintop finish atop the Hautecam. Excellent!
| | |
| --- | --- |
| Le Tour 2014, stage 18: Nibali confirms dominance up Hautecam | |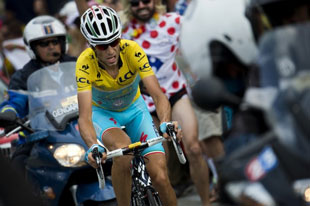 In the final decisive road stage of the 2014 Tour, Vincenzo Nibali triumphed up the final HC climb of Hautecam and confirmed his dominance of this year's Tour. Barring a disaster in Saturday's time trial, he will wear the yellow jersey in Paris. And at this point who could deny him; the way he's ridden this tour, he might well have won even if Chris Froome and Alberto Contador were still riding.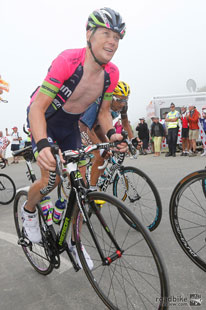 It was a great race all the way up the last climb; if you've ever wanted to watch a truly great race up a truly tough mountain, this would be a good one to go back and watch. I enjoyed every minute of it, especially 42-year-old Chris Horner's late attack on the GC leaders, which was glorious despite ultimately failing. Rafael Majka had a great ride too, as did Tejay Van Garderen and JC Peraud. Unfortunately Alejandro Valverde faltered in the final battle and now sits fourth, with some serious work to do in the time trial to get back on the podium. And it was a great race for France, as there were no fewer than three French riders battling and left with a chance at the podium.
Tomorrow is a flat sprinters stage - the last chance for a breakaway, so could be interesting - and then Saturday is the long time trial before Sunday's parade into Paris. Onward.
| | |
| --- | --- |
| Le Tour 2014, stage 19: Navardauskas outruns charging peleton | |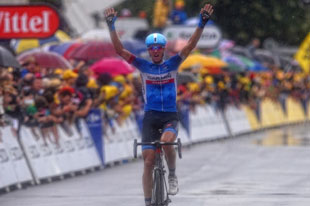 On paper the last road stage of the 2014 Tour looked like one for the sprinters; a flat "transition" stage. But as the last chance for glory you knew anything could happen, and something great did; Ramunas Navardauskas attacked the peloton on a dinky Cat 4 climb near the end and then powered away from a charging peloton to give Team Garmin Sharp their first victory of the tour. And it certainly made for great spectating, it seemed he would be reeled in just at the end like his teammate Jack Bauer on stage 15, yet he held on and made it. Yay.
Stage 20 tomorrow is the time trial, and there's quite a lot at stake; 2nd, 3rd, and 4th place are up for grab between JC Peraud, Thibot Pinot, and Alejandro Valverde, and 5th and 6th are in play between Romain Bardet and Tejay Van Garderen. Stay tuned!
| | |
| --- | --- |
| Le Tour 2014, stage 20: Martin wins TT as Nibali cruises to final yellow | |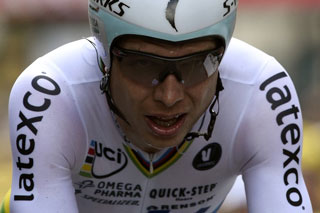 The amazing 2014 Tour de France continued today as Tony Martin won the long 40km time trial, extending his dominance in the TT discipline. Vincenzo Nibali finished a strong fourth, wrapping up his overall GC victory. JC Peraud passed his French countryman Thibot Pinot to end up second, despite two punctures, and Alejandro Valverde failed to gain ground, leaving Pinot on the podium in third and finishing fourth overall (and taking the white jersey as best young rider). Tejay Van Garderen finished fifth for the second time, after barely passing Romain Bardet.
So ends a great Tour; tomorrow is the traditional parade to Paris, punctuated at the end by what will likely be a ferocious bunch sprint. I'm sad! I don't want the Tour to end...
| | |
| --- | --- |
| Le Tour 2014, stage 21: Kittel wins final sprint (again); Nibali golden in yellow | |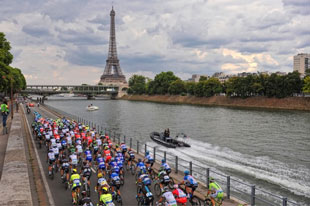 To nobody's surprise Marcel Kittel won the final bunch sprint down the Champs d'Elysee in Paris, after the usual flurries of attacks on the cobbles in front of millions of screaming Frenchman. It was an amazing pageant, as always, to see 200 brightly clad riders flying down the boulevard at 40mph.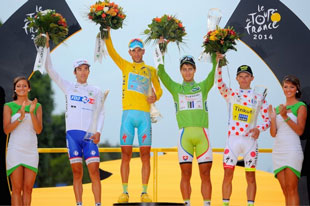 And so ends the remarkable 2014 tour; with Vincenzo Nibali in firm possession of the overall leader's yellow jersey, Peter Sagan equally secure in the sprinter's green jersey, Rafael Majka in the king of the mountain's polka dots, and Thibot Pinot as the best young rider in white.
It was a great three weeks of great racing, with a little bit of everything, and after looking forward to each day's racing I'm sorry it's all over. I guess I'll have my little period of mourning and then we can look forward to the 2014 Vuelta a Espana. (Will Chris Horner be able to defend against Chris Froome and Alberto Contador?)