Archive: June 2014
| | |
| --- | --- |
| on the road again, and again, and again | |
I've been doing a lot of riding, and haven't been posting about it - bad Ole Bad - so here's an abbreviated report.
Trona 308 - 308 miles, 20,400 feet, 4-man team, 18:30
Tour of Two Forests - 197 miles, 15,000 feet, bonked and bailed
Santa Clarita Century - 98 miles, 6,900 feet, 6:47
First, a couple of Saturdays ago I raced in the inaugural Trona 308 as part of a four-man team, with my friends Gary Feldstein, John Quinones, and Tim Skipper. And ... we won! Took us 18 1/2 hours, and we beat everyone by over half an hour. Not bad for a bunch of old guys. I had the honor of riding the 4th and 8th "anchor" legs. Each "pull" was about 40 miles, which took about 2 1/2 hours. It's quite different riding as hard as you can for 2 hours instead of riding for 8+, and it was really fun. And this was the first race I have ever won :)
The route was 100% high desert, from the start in Valencia to Trona, on the outskirts of Death Valley, via California City and Johannesburg. Not necessarily the most beautiful and the monotony can get you, but it is good for meditation riding.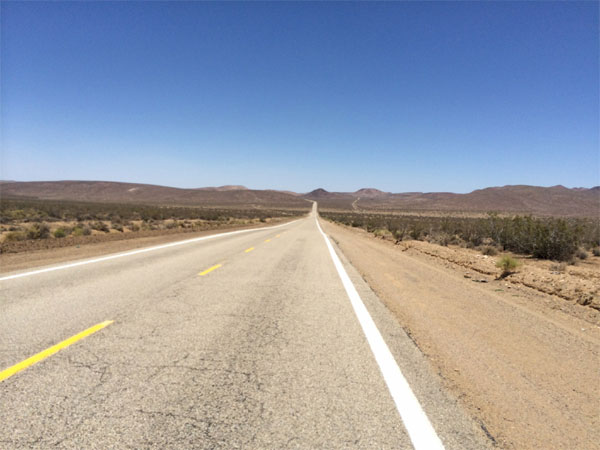 typical view ... miles and miles and miles of riding through the high desert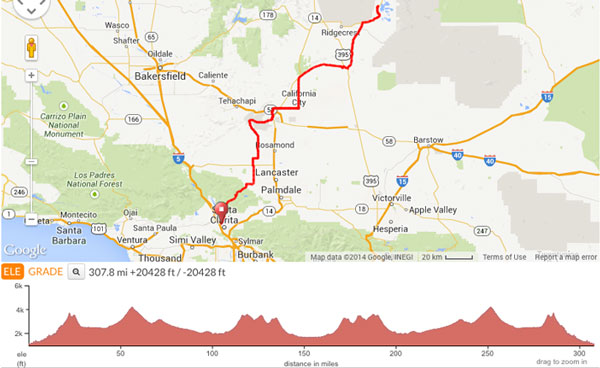 the route from Valencia to Trona and back, 308 miles, 20,400 feet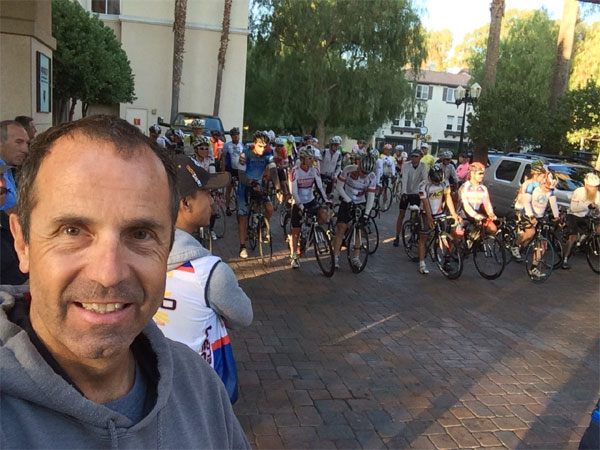 at the start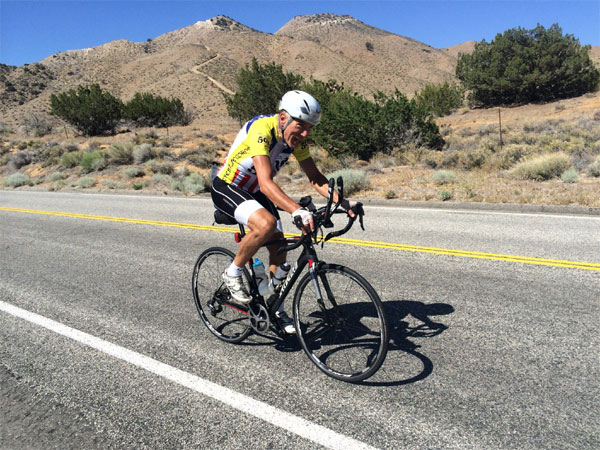 Gary Feldstein ... cranking away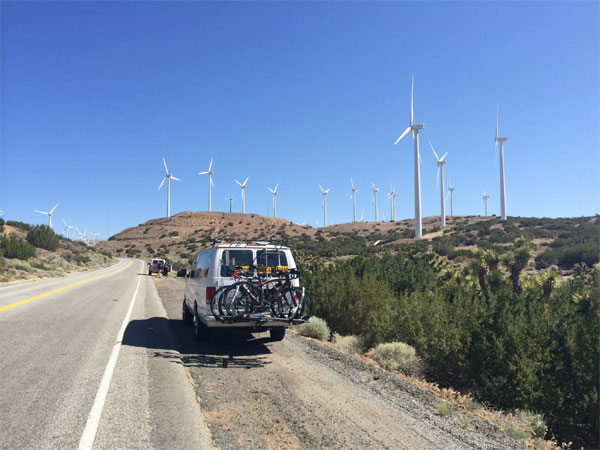 support van leapfrogging riders - those windmills are there for a reason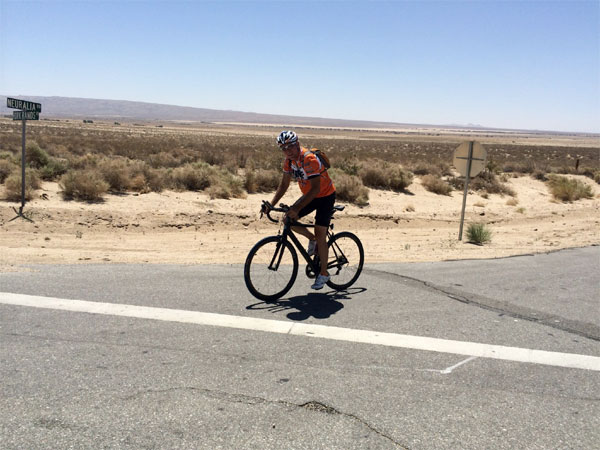 Tim Skipper in the wide open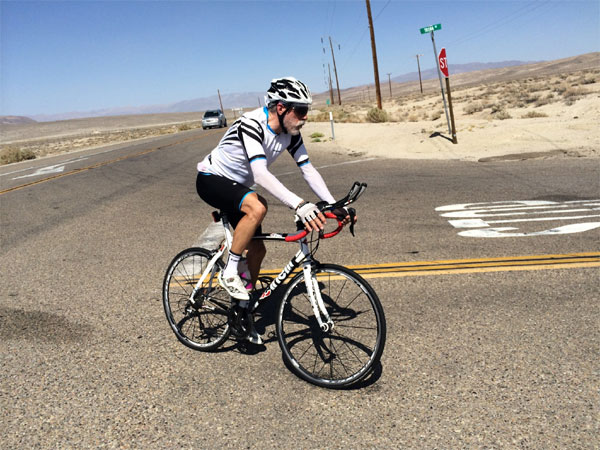 John Quinones ... not pictured, *wind*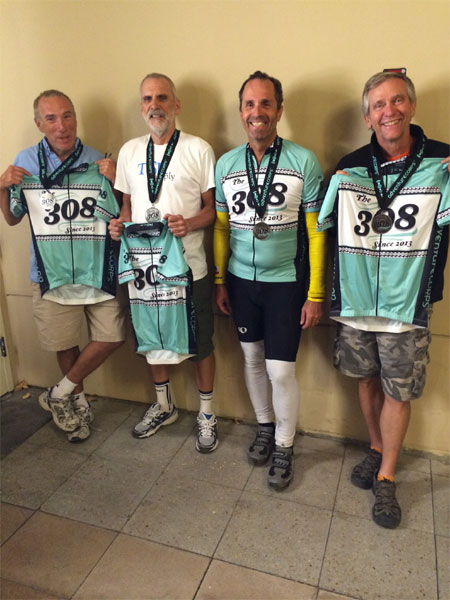 to the victors go the spoils, including spiffy new jerseys
Last weekend I rode the Tour of Two Forests Double Century, and ... well, I only ended up touring one of the two forests. After 100 miles I bonked climbing so-called Heartbreak Hill, and retreated to a nearby bar and waited for a rescue. Fortunately I was able to watch the Belmont Stakes and the Kings game, so it wasn't a total loss :)
This is a very nice ride through some beautiful scenery, but the forests are most definitely in mountains.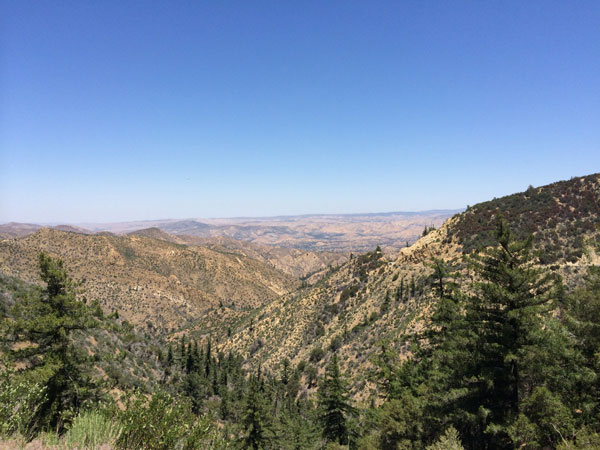 typical view ... miles and miles and miles of forest in mountains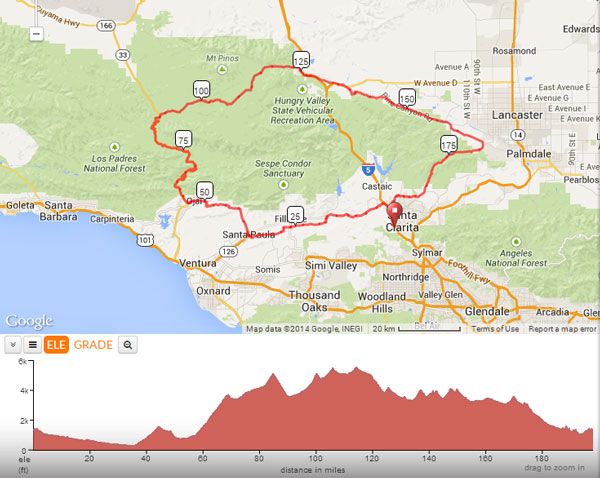 the route - 198 miles 15,400 feet through Los Padres and Angeles National Forests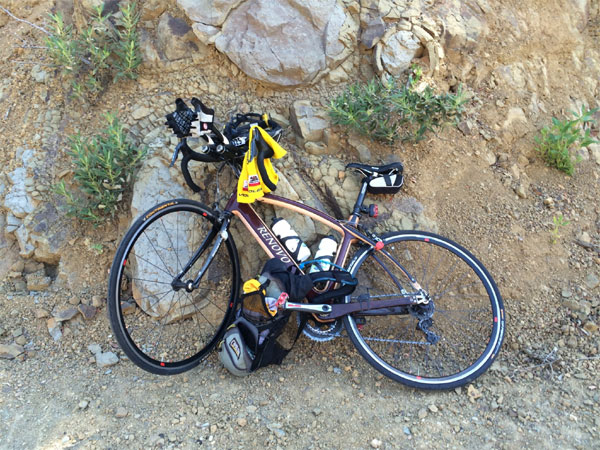 my mighty steed - I stopped to de-layer from early morning warmers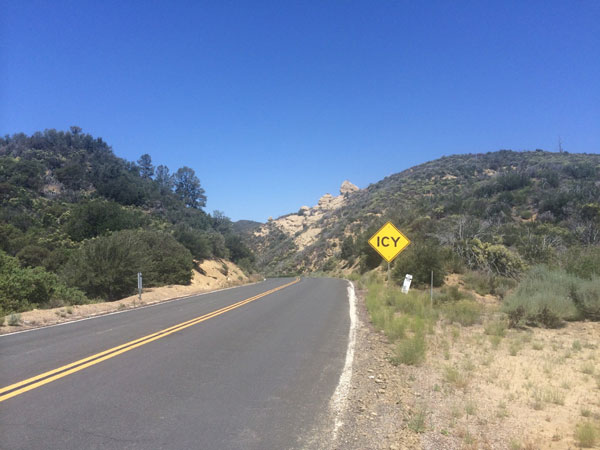 not Icy today ... hot and dry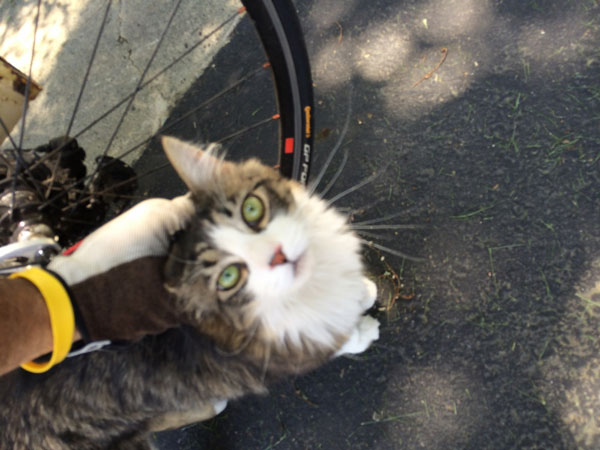 made a new friend at a Ozena Ranger Station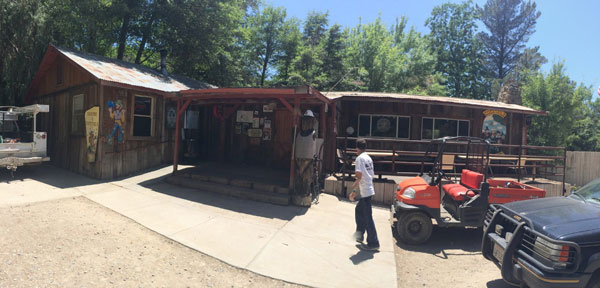 abandoned and retreated to the Reyes Creek Bar and Grill
On the road once again, today I rode the Santa Clarita Century. It was a nice course through the Angeles National Forest - approximately the part of the Tour of Tour Forests I *didn't* ride last weekend - and I made it without bonking, yay. Took me 6:47 and the ride was so well supported I hardly stopped at all.
Highlight of the day: I was passing a couple of guys climbing Mt. Emma, and one says to the other, "dude, you just got passed by an old guy riding a wooden bike". Awesome.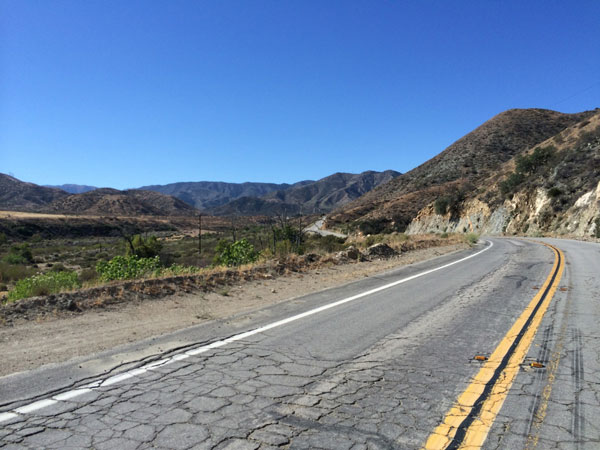 typical view ... miles and miles and miles of riding through high desert in the mountains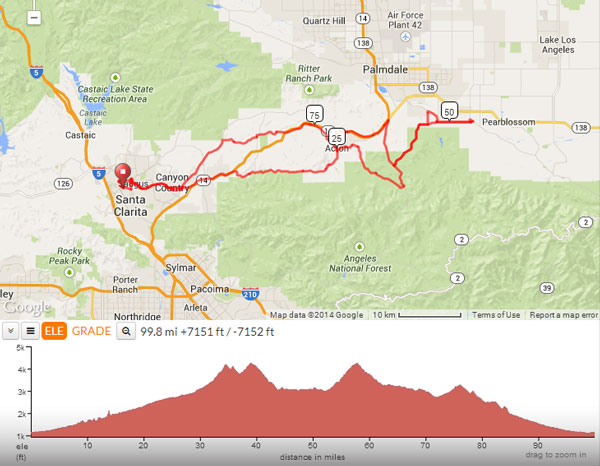 the course - 99 miles, 7,100 feet, out and back Santa Clarita to Pearblossom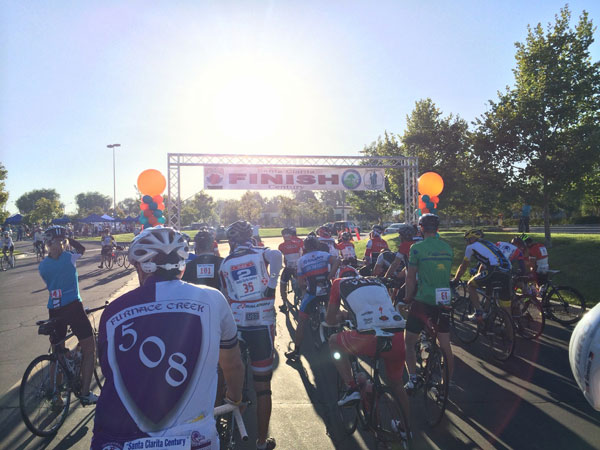 at the start - hotshots jockeying for position; it's 100 miles, guys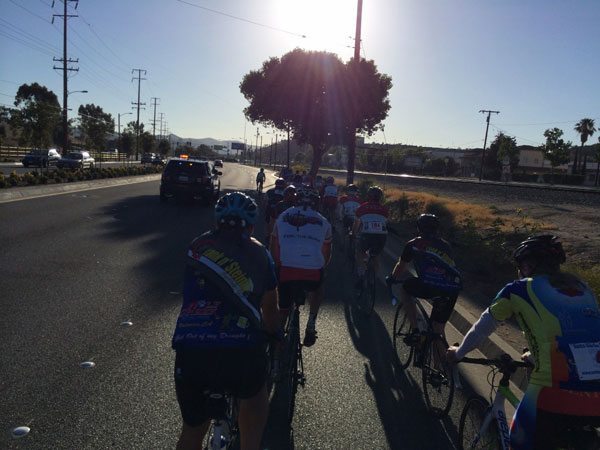 police escort for the early morning leader's paceline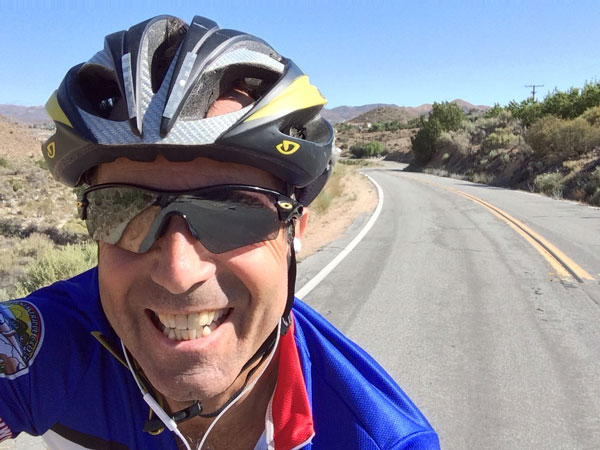 on the road again... yay


And so it goes... next weekend I will NOT be riding; but I'm sure I'll do a little in the week before and after. And I'd better, because in two weeks I'm riding the terrifying Alta Alpina Double Century, probably the hardest one there is. Whew!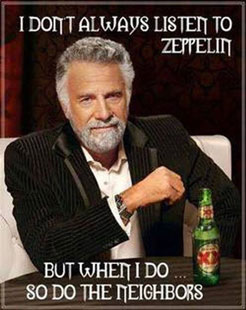 Wow, another two week gap in posting. It's all happening, but that's a reason and no excuse. My little company eyesFinder is getting a little bigger; we raised some money, hired some people, opened an office, started a sales project, and ... wow does it take time running the circus. And meanwhile a lot going on in the world too. Here we go, the Ole filter makes a pass...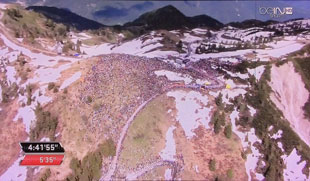 It's almost old news now but really enjoyed watching the Giro d'Italia, the annual three week bike race which tours Italy. Amazing scenery, great riding, and tight competition, what more could you want? The climb over the Stelvio in snow was pretty incredible, but the final climb up the Zoncolan sticks in my memory, with thousands of people spread over the hillside to watch. Congratulations to Nairo Quintana, who outclimbed his Columbian countryman Rigoberto Uran to win. Italian surprise Fabio Aru was a strong third, but I have my eye on Wilco Kelderman, the Dutch kid who finished seventh.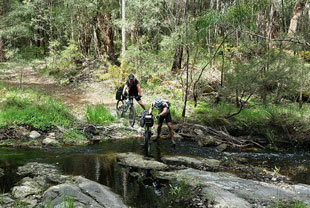 From CNN: Seven incredible bike routes. Added to the list :) My favorite so far is Munda Biddi trail in Western Australia... 596 miles off-road through forested wilderness. Wow.
Did you see this? GE integrates iBeacons into Walmart lighting fixtures. You WILL be tracked.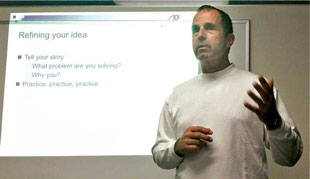 I posted about this on my other blog (eyesFindings), a week ago I was invited to give a talk about Starting up a startup to a group of entrepreneurs in the Santa Clarita Valley. Really fun. I love the sense that people have that they too can start a business and they too can be successful. It's the American way... now we have to get our government out of the way!
I read that 3% of all startups succeed, but 75% of all startup entrepreneurs think they will succeed. Count me in that group!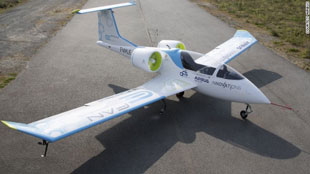 Excellent: Airbus electric plane takes to skies. It's little and it can't go very far, but it's a start... it just seems inevitable now that everything will eventually be powered by electricity, relegating fossil fuels to the dustbin of history. And the electricity will come from nuclear power.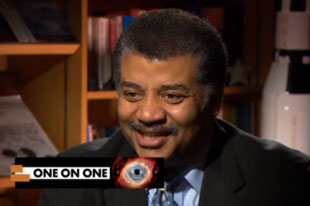 Are you a Cosmos watcher? I am, despite not being a TV watcher; I like Neil deGrasse Tyson, and I like the idea that there's a show on TV which likes science. Here are the five biggest mysteries, according to Tyson: 1) Dark Energy, 2) Dark Matter, 3) What happened before the Big Bang, 4) How did we get from organic molecules to replicating life, 5) Are we alone? A pretty good list. I would add: "what happens to socks in the dryer?"
Speaking of Tyson: the difference between weather and climate change. This is important to understand whether you think human activity is primarily responsible or not.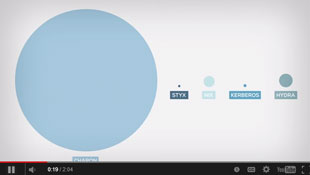 Related: an explanation of the five moons of Pluto. Excellent. Bet you didn't know Pluto even had five moons, did you? Not bad for a not-planet-anymore. Weirdly Charon, the largest moon, is so big that the center of the Pluto-Charon system lies outside of Pluto. So you could say that they're a double-not-a-planet, with four moons :)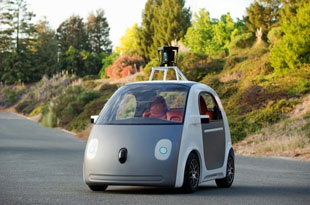 Tech news: Google unveil their self-driving car. It's so cute! And ... it doesn't even have a steering wheel. Like the Airbus plane, it's the future, although a little ways off. Of course there's no question it will be an electric vehicle, right?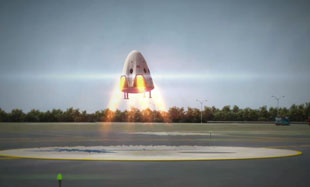 SpaceX unveil the Dragon 2, a safer, smarter space ferry. Excellent. Looks like something from a movie, huh? This will be a big step for SpaceX, actually flying humans instead of just parts. Not clear yet whether it will be electric :)
Telsa's (and SpaceX's) Elon Musk: It wouldn't be hard to build a flying car. Well then, do it!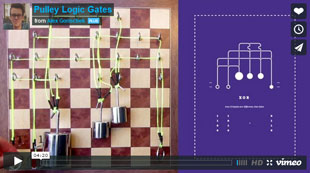 Excellent stuff: pulley logic gates. Who knew you could do everything electronic logic can do with mechanical systems? I look forward to a complete computer powered by gravity :)
Here we have Leonardo da Vinci's resume. I'd hire him :)
By the way, last year while in Tuscany I visited the Leonardo museum, in the town of Vinci. Very interesting. Full of little mechanical models illustrating some of his designs, many of which had to do with irrigation systems and techniques for building. He would have loved pulley logic gates.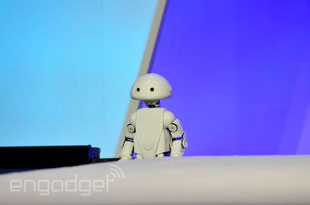 Intel will let you build your own 3D-printed robot, later this year. "Jimmy is a 3D-printed robot capable of walking, talking, moving his arms, dancing and even tweeting." Wonder if you can ask him to make copies of himself? Is this a great time to be alive, or what?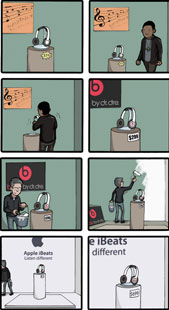 When I'm wrong, I say so: Apple acquires Beats Electronics for $3B. So be it. I guess they bought the combination of current revenue and brand and synergy, with the future of the music subscription service. And they bought Jimme Iovine, for a better connection between Silicon Valley (tech) and Hollywood (entertainment). A big deal.
I'll have more to say about Apple's WWDC, Swift, IOS8, etc. in another post... it is clear they are slowly opening up IOS for more third-party development, perhaps in response to Android, or perhaps just because they're evolving. And it is clear that IOS and OSX will be more similar.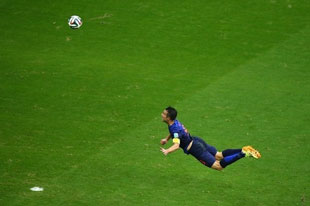 Yesterday was a big day in sport: The Netherlands soundly defeated Spain 5-1 in their World Cup rematch of the final four years ago (go Oranje!). That header by Robert Van Persie was amazing, and those goals by Arjan Robben were incredible. Onward!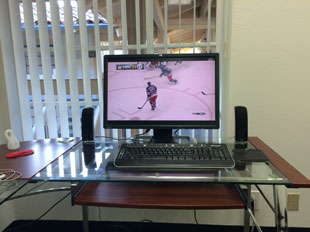 ... and the LA Kings won the Stanley Cup over the NY Rangers. Yay. This is my hockey watching (slash programming, slash blogging) station in my new office.
That's it for now ... onward! (and please stay tuned for more...)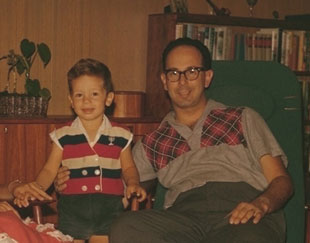 Happy Father's Day! I'm celebrating in the usual way ... by eating and drinking a lot :)
That's me and my Dad. I miss him. Hi, Dad!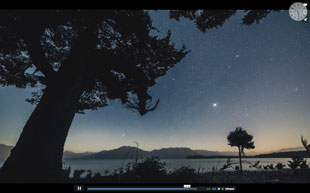 Awakening. A stunning 4K time-lapse video from New Zealand. Want. To. Go. Also a great soundtrack :)
Philip Greenspun: If Piketty is right about rich people getting high returns, why do banks lend at low rates? Good question. The math doesn't seem to match the reality.
Uber's problem is that it offers insufficient opportunities for graft. Hehe.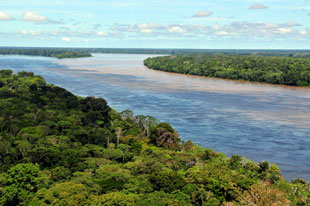 Meanwhile: Brazil's fight against deforestation has been a surprising success. Wow, indeed surprising. Good for them!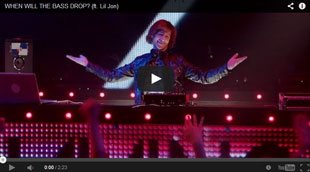 When will the bass drop? Awesome. And ... pretty accurate :)
Beyond the stack. Hmmm. This is taking something evolutionary and casting it as something brand new, which always makes me suspicious. I don't think the cloud is a "platform"; it's simply a way of delivering existing platforms like Linux / PHP / MySQL in a more efficient, scalable way. Right?
Tim Bray: trusting browser code. "It would be useful if you could really trust code running in your browser. It's not obvious that this is possible; but it's not obvious that it isn't, either." A useful analysis.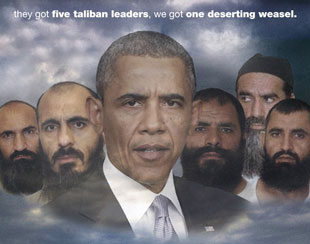 Trading Private Bergdahl. Brutal. It's not so much that I disagree with the trade, as that I'm embarrassed that my government is so clueless and unprepared. It's like little boys pretending to be men.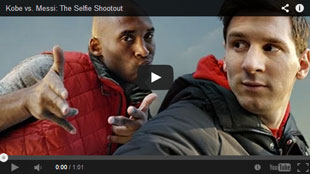 Turkish Airlines' award winning ad: Selfie Shootout. It's pretty great.
So, did Eugene pass the Turing Test? My instinct is ... NO. This is a false accomplishment by false people.
Dave Winer's Little Pork Chop. Is this the end of Twitter as we know it? No... but it is an interesting extension, right?
Tipping point: Microsoft Azure sponsors Daring Fireball. Seriously. This shows me that Satya Nadal gets it.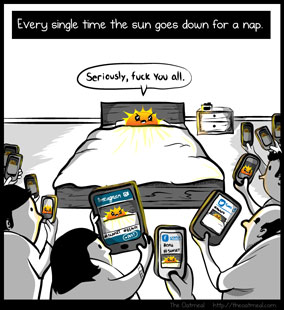 Every time the sun goes down for a nap...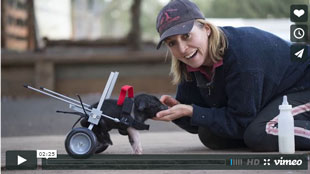 Leon Trotsky, a piglet on the move with help from his custom cart. Awwww!
You're getting old! If you don't believe it, check out this website... yikes!
Happy Father's Day!
| | |
| --- | --- |
| passwords considered harmful | |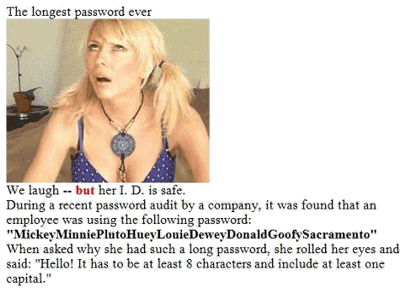 Here's a free killer business opportunity: eliminate passwords. If anyone can do this, they will print money.
How much do you hate trying to remember what password you used for each website and app, and going through password recovery just to use it? I try to use the same passwords for just about everything (I know, I know), but I can't, because every site's rules are different. Feels like half the time I end up going through password recovery, and half the time that doesn't work. Blech.
Maybe someday my computer and phone will know I'm "me" (biometrics?) and be able to identify "me" to every website I visit (and every phone app I launch), and I won't have to do this anymore. I can't wait.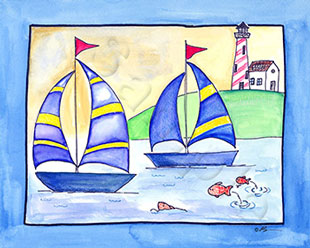 Summer! Yippee. Onward...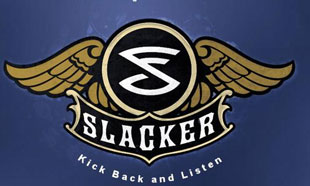 Slacker vs iTunes Radio. Slacker wins in an overwhelming landslide. I've been testing them by entering various bands I like - Led Zeppelin, INXS, Daft Punk, etc - and then seeing how much I like the resulting channels. Slacker Rocks. (A key difference, Slacker actually includes music by the artist that defines the channel.) I shall try Pandora too...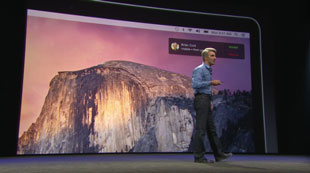 Did you miss Apple's WWDC keynote? Here you go. Despite the prognostications of many, this just doesn't feel that groundbreaking to me. What single thing stands out? Swift, maybe.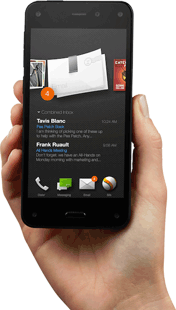 Amazon had a busy week, first they announced a streaming music service, and, then ... the Fire phone! Wow. Of course the Firefly visual search service is what caught my eye. Most interesting.
Yes, of course I ordered one :) Stay tuned for a full report.

(Update: Jamie Zawinski doesn't think much of their music service :)
(Update: Dieter Bohn [the Verge] has a hands on report about the Fire phone.)
(Update: Sam Machkovech [Ars Technica] goes deep... and is not wowed)
(Update: Nick Statt [Cnet] thinks Firefly is the Fire phone's secret weapon. Yes)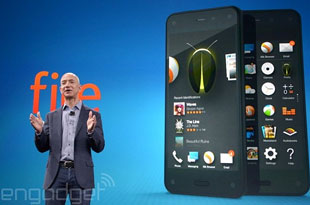 Here's the Jeff Bezos keynote video. Not Steve Jobs but not bad. He's clearly gotten more comfortable with Amazon as a tech provider; I can remember the early Kindle announcements, and while the product was cool, the introduction events were ... not.
Remember Seth Godin's proven way to add value? Do extremely difficult work. But ... now we have fast, easy, guaranteed. Pick none. Sorry, have to disagree. By W=UH, if you do it the right way, it will not be hard.
People invested $1M in an app that sends "Yo". Oy! (Meh) Meanwhile we are trying to do something a little harder... (Update: Yo hacked :)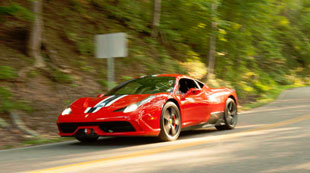 One hour with the Ferrari 458 Speciale. "The only time it gets good is when you're in danger of going to prison." That's what is so great about the Tesla Model S, it is great at 0mph. You almost wish for the traffic lights to turn red.
Elon Musk has decided to open all Tesla's patents to everyone. Interesting move.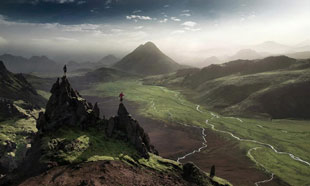 Jason Kottke: Beautiful Iceland. Wow. Reminds me that Iceland is green, and Greenland is icy.
I think Iceland is in third place on my "must go see" list (behind Madagascar and New Zealand).
And finally, celebrating Summer! - an awesome photo gallery from the J Class Superyacht Cup. Truly awesome: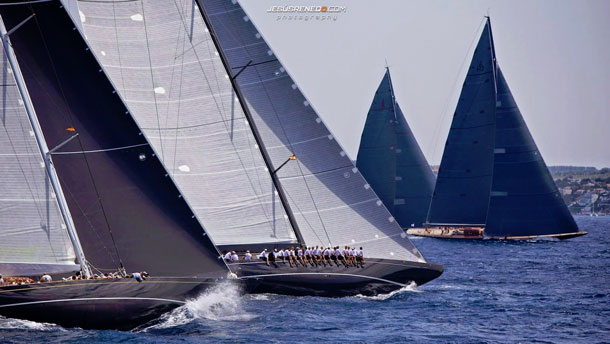 Have you been following the World Cup? (Go Oranje!) Then you will probably like this cool infographic, which shows the odds for each team of advancing to each round. It's been constantly updated, too, so you can track your team's fortunes.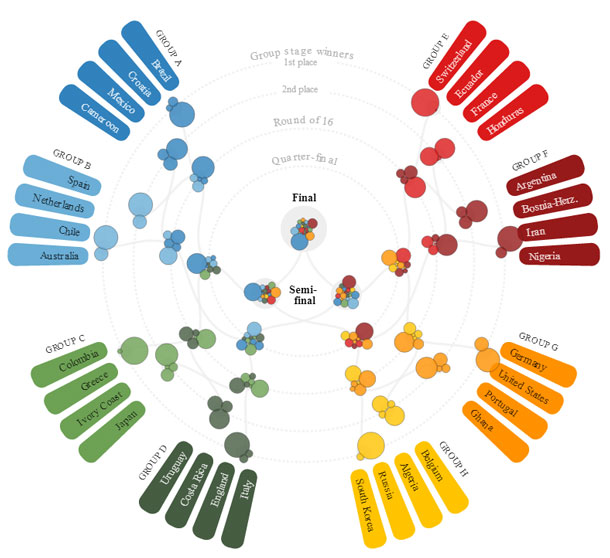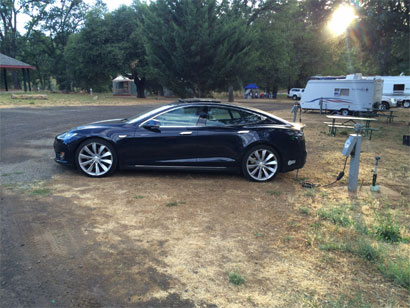 I'm on my way to Lake Tahoe to compete in the Alta Alpina Double Century, and doing it in an electric car... This trip would be completely impossible without Tesla superchargers. They are located about 200 miles apart on I-5 and California 101, and charge the car in about an hour. So you can stop, plug in, eat, shop*, or do whatever, and an hour later you're on your way again.
* Tesla seem to have most of their superchargers located in the parking lots of outlet malls, which are located between big cities, and have big parking lots, and ... give you something to do while charging.
That works great if you stick to the main highways, but what if you want to visit Yosemite? Two things happen; first, you have to carefully figure in the effect of going up and down hills in your range calculations, and second, you are going to find yourself in a campsite, plugged into an RV hookup. There you will charge at about 40mph, so it will take a long time to charge completely. Or you can hop from charge to charge, out of boredom and a desire to see more.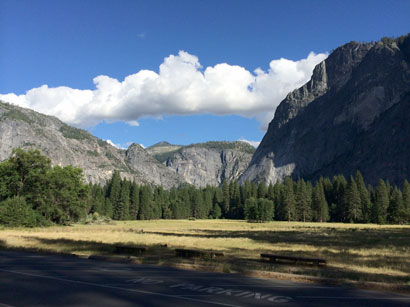 Yosemite is simply awesome. If you've never been there, it's a must-see. The beauty and scale of the rock formations and meadows and waterfalls is breathtaking.
The National Park is celebrating its 150-year anniversary, which is amazing; imagine visiting it on horseback!
Onward ... tomorrow is a day of relaxation in Hope Valley, south of Lake Tahoe, and Saturday I'm riding. Stay tuned!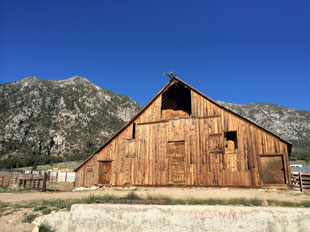 I'm baack after a great road trip, yay. I did ride the Alta Alpina Double Century, and I did not finish, but I did ride 160 miles and climb 17,000 feet, so I did feel good about it. And the trip up and back was interesting and wonderful.
This is an old barn I passed while riding the Emigrant Trail near Markleeville. Wonder if the people who built it 100 years ago envisioned a stream of lycra-clad riders passing by... :)
And in the meantime, it's all happening...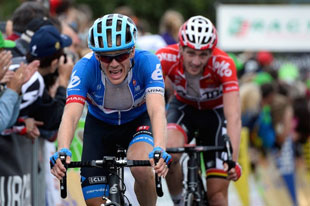 Congratulations to Andrew Talansky for winning the Criterium du Dauphine. Any time you beat Chris Froome, Roberto Contador, and Vincenzo Nibali in a stage race, you have to feel pretty good about it :) We'll be watching him closely at Le Tour - which starts next weekend!
Also warming up for the Tour: World Champion Rui Costa wins the Tour de Suisse. Was a pretty interesting race, Tony Martin would have won if he'd had any kind of time to help him. Clearly Costa and Martin are ready for July.
BTW here is a nice overview of Le Tour, by the numbers. It starts in the UK this year, and features a lot of climbing. Should be most excellent. (I'm rooting for Wilco Kelderman ...)

Please click on the thumbnail at right to enbiggen...

One more pre-Tour note: What are the most memorable Tour stages of all time? For me, I'd go with Floyd Landis stage 17 of the 2006 TDF. It was definitely the most dramatic victory ever, even if it was subsequently tainted by doping.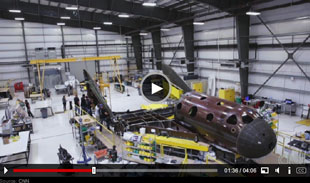 Cool: Inside Virgin Galactic's newest passenger spaceship. Now you, too, can go into space ... defined as about 18 miles up. Of course this is nowhere near actual space ... as in geocentric orbit,which is 22,000 miles up. But still, what a time to be alive!
Chris Dixon: The next twenty years is going to make this last twenty years just pale:
If we were sent back with a time machine, even 20 years, and reported to people what we have right now and describe what we were going to get in this device in our pocket - we'd have this free encyclopedia, and we'd have street maps to most of the cities of the world, and we'd have box scores in real time and stock quotes and weather reports, PDFs for every manual in the world - we'd make this very, very, very long list of things that we would say we would have and we get on this device in our pocket, and then we would tell them that most of this content was free. You would simply be declared insane. They would say there is no economic model to make this. What is the economics of this? It doesn't make any sense, and it seems far-fetched and nearly impossible.

But the next twenty years are going to make this last twenty years just pale. We're just at the beginning of the beginning of all these kind of changes. There's a sense that all the big things have happened, but relatively speaking, nothing big has happened yet.

Awesome!
Marc Andreessen: What will it take to create the next great silicon valleys?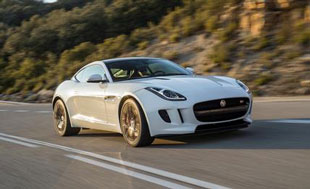 Car and Driver: Review of the new Jaguar F-type coupe. "The best part is that the coupe is the first Jaguar since the original E-type to look like rolling sex. And that, combined with a righteous perform­ance-per-dollar ratio, places the S at the F coupe's sweet spot." I find it hard to get excited about any gas-powered cars anymore, but this certainly is a beautiful machine.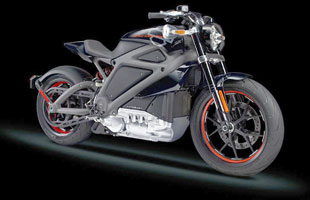 Speaking of beautiful machines: Harley Davidson unveils their very first electric motorcycle. I find it fascinating that they went to the trouble of creating a sound for it ... which is actually generated by a sound system, not the engine. Here's a test drive report...
So, can there be such a thing as a three-sided die? Yes! Interestingly the same technique can be used to create an any-sided die.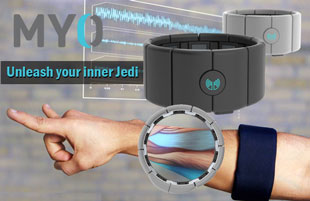 So this is cool: Myo, a gesture control armband. It measures your finger and wrist movements by the muscles in your forearm. Excellent. But I wonder, will it be useful? The Leap Motion is cool too, but has had trouble finding real world applications.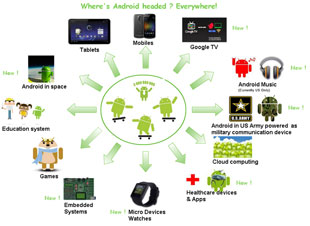 Last week featured Google's I/O conference, and by most accounts the keynote was too long and didn't offer much in the way of surprises. Mat Honan has a nice overview. Aside from Google's ambition to power everything with Android (your phone, your car, your TV, and all your wearable devices), the big news was Google's increased push into cloud services, competing with Amazon (and to a lesser extent, Rackspace et al). For me there were two dogs that didn't bark in the night: Google Glass, conspicuously missing, and Google+.
And meanwhile, the long awaited switch to Android-first development hasn't happened yet.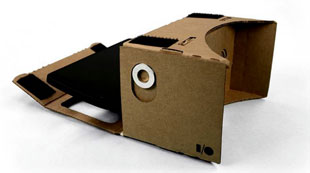 I was most interested to see Google Cardboard, a tongue-in-cheek but functional way to turn an Android phone into a VR device. The line between actual Reality and virtual Reality is blurring rapidly.
In case you're wondering, Facebook is still a big hit among teens. Yeah, various messaging services like Instagram might command their attention, but no Facebook-killer has yet appeared.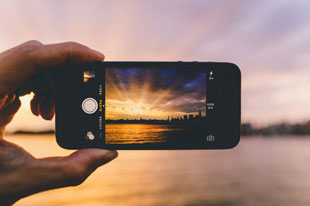 And this is cool: Through the Phone, a series of picture-in-picture photos of iPhones taking photos. Next up, iPhones taking pictures of mirrors :)
Return to the archive.
Home
Archive
this date in:
flight
About Me
W=UH
Email
RSS OPML

Greatest Hits
Correlation vs. Causality
The Tyranny of Email
Unnatural Selection
Lying
On Blame
Try, or Try Not
Books and Wine
Emergent Properties
God and Beauty
Moving Mount Fuji
The Nest
Rock 'n Roll
IQ and Populations
Are You a Bright?
Adding Value
Confidence
The Joy of Craftsmanship
The Emperor's New Code
Toy Story
The Return of the King
Religion vs IQ
In the Wet
solving bongard problems
visiting Titan
unintelligent design
the nuclear option
estimating in meatspace
second gear
On the Persistence of Bad Design...
Texas chili cookoff
almost famous design and stochastic debugging
may I take your order?
universal healthcare
entertainment
triple double
New Yorker covers
Death Rider! (da da dum)
how did I get here (Mt.Whitney)?
the Law of Significance
Holiday Inn
Daniel Jacoby's photographs
the first bird
Gödel Escher Bach: Birthday Cantatatata
Father's Day (in pictures)
your cat for my car
Jobsnotes of note
world population map
no joy in Baker
vote smart
exact nonsense
introducing eyesFinder
resolved
to space
notebooks
where are the desktop apps?
still the first bird
patience
electoral fail
progress ratches
2020 explained